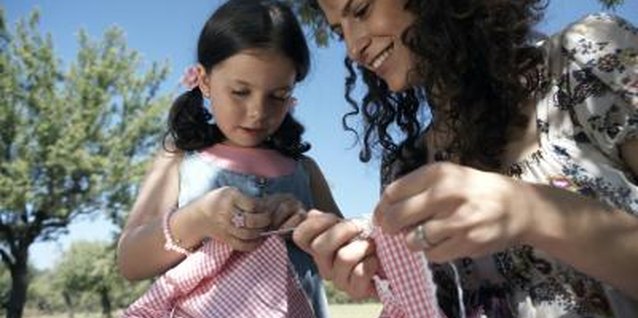 Do you consider yourself a die-hard Elvis, I Love Lucy or Grease fan? What better way to celebrate your love for the 1950s than to share it with your little ones -- and dress them up in 50's-style costumes for Halloween or a costume party. Plus, it doesn't get much cuter than a little boy dressed up like a beatnik or a little girl dressed up in a poodle skirt and horn-rimmed glasses.
1. The Clean-Cut Guy and the Rebel
To put together cool threads for a 1950's-style boy's costume, think back on those sock-hop days. You could go with a clean-cut look -- a button-up shirt, loafers and blue jeans rolled up slightly at the ankles -- or go with a rebel look, using the same blue jeans, but swapping out the button-up shirt with a plain white T-shirt with rolled-up sleeves -- and don't forget to slick back your little guy's hair!
2. Girls at the Hop
When you put together materials to make a 1950's girl's costume by hand, think about the most popular looks for girls during the time -- or what outfits you see in movies from that era. For example, you could dress your little girl in a typical sock-hop outfit featuring a poodle skirt, horn-rimmed glasses, cardigan sweater and saddle shoes. You can either sew a poodle skirt from a pattern, or purchase one from a costume shop or thrift store. Another option for a little girl is peddle pushers, a button-up shirt and a satin or sateen biker jacket -- pink and turquoise were popular colors.
3. The Beatnik
If you want your little one to capture the 1950's beatnik look, all you really need to do is to think black. A beatnik costume can work for both girls and boys -- and is easy to piece together using a few basic clothing items. Combine a black pair of pants, or a long black skirt for a girl, with a black turtleneck shirt. Add a black beret or tam, a pair of tiny round or rectangular sunglasses -- and give your little one a set of toy bongos to carry.
4. Famous Personalities
Certain TV and movie personalities are iconic of the 1950s, so why not dress your child like Elvis, Lucille Ball or Marilyn Monroe? Elvis in the 1950s had a more clean-cut look with a flannel shirt, slick hair and loafers, but don't forget to include his guitar with the costume. You can find a tiny guitar at most toy stores or music shops. Get a bright orange, curly wig for a Lucille Ball costume, along with a chef's hat and apron to recreate the I Love Lucy episode where Lucy and Ethel work in the chocolate factory. Dress your little one in a halter-style dress with a full skirt and a big blonde wig to look like Marilyn Monroe -- but don't forget the bright red lipstick!