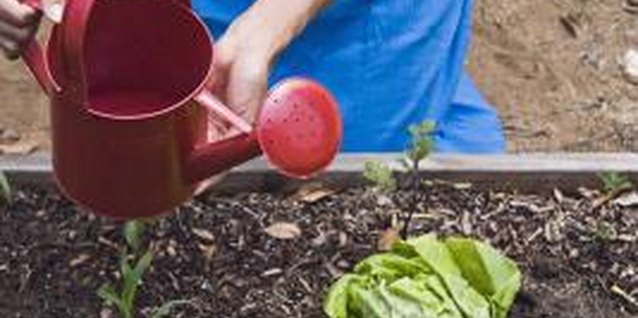 A raised garden bed offers an alternative to planting vegetables directly into the ground. This type of garden bed works especially well for small garden spaces, because raised beds aren't large and allow for close planting. But raised beds come with some drawbacks that affect plant health and convenience. With a closer look at raised gardens, you can decide if building one in your backyard will work for your family.
1. Appearance
A raised garden bed creates a defined garden space that often looks better than a traditional garden. The edges are straight, with boards or decorative bricks to create the boundaries. The raised beds give the garden space a sense of organization. Because the beds are typically smaller, you can plant similar items together to keep it neat and orderly.
2. Conditions
A raised garden gives you more control over the growing conditions than a traditional garden. Because the sides are higher than ground level, you add your own soil. If the soil on your property isn't ideal -- rocky, heavy with clay or the wrong pH -- the raised bed offers better growing conditions. A raised bed usually drains better than a garden at ground level. You may notice fewer weeds because the bed edges keep unwanted plants out.
3. Access
Raising the garden bed higher provides easier access to the produce you grow. Even raising the bed 12 inches off the ground means you don't have to bend over quite as much to harvest. A higher raised bed makes it easier to grab the vegetables. Raised beds are just the right height for your little garden helpers. This type of garden bed is often smaller in size -- typically only 4 feet across. You can easily walk around the bed and reach everything you planted without stepping inside the garden.
4. Cost
A raised bed costs more, both financially and in labor. You can buy raised garden bed kits at home improvement stores that include the materials you'll need to create the sides of the bed. These kits cost anywhere from $30 to more than $350, as of June 2013, depending on the size. You can also buy your own materials, such as wood planks, landscape timbers or retaining wall bricks. A kit is usually fastest because everything is ready. If you buy your own materials, you should account for the time to configure the sides, cut pieces and assemble them.
5. Plant Problems
The better soil helps with plant health, but the raised bed also has some potential problems with plant growth. You'll need to water more because the raised bed is likely to dry out faster than a garden in the ground. Plants tend to be planted closer together in the limited space of a raised bed. This close contact increases the chances for pest and disease problems. If you plant the same vegetables each year in small raised bed, you won't have as much opportunity for rotating the plants. This increases the risk for pest and disease problems that stay in the soil.
6. Flexibility
Raised beds offer less flexibility than traditional gardens. Once you build the raised bed, it is difficult to move. Not only does the wood need to be disassembled and moved, but the extra soil that fills the bed is left behind. With a garden planted directly into the ground, you can easily expand the space or allow grass to grow back over the space if you don't want the garden any longer.
Photo Credits
Jupiterimages/Brand X Pictures/Getty Images