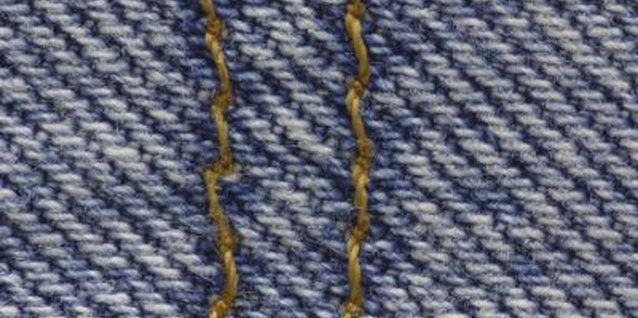 Although many brands of bootcut jeans sell in tall, regular and petite sizes, standardized hem lengths continue to provide an imperfect fit. Even as little as an extra inch in the leg causes jeans to drag on the ground, fraying the hem and bunching awkwardly at the ankle. But there's no need to shell out for a professional tailor to hem your jeans; alter your favorite bootcut style with a lift that's sure to flatter without changing the look of the original hem.
1. Set the Sewing Machine
1 Loosen the knob beside the sewing machine's needle and swap out the standard needle for a heavy-duty needle. Tighten the knob.
2. Set the Sewing Machine
2 Fill the bobbin with a thread that matches the color of your jeans, whether classic denim blue, black or neon. Slide the thread spool onto the spool pin and replace the spool-pin cap.
3. Set the Sewing Machine
3 Snap the thread through the upper and lower parts of the thread guide, and wrap it clockwise around the tension disc. Slip the thread end through the hole in the top of the bobbin, then slide the bobbin onto the winder.
4. Set the Sewing Machine
4 Push the hand-wheel disc inward and run the machine with the speed controller, still holding the thread end. Reset the hand-wheel disc once the bobbin is full. Trim the thread.
5. Set the Sewing Machine
5 Insert the bobbin into the bobbin case. Guide the thread through the machine as usual to catch the bobbin thread with the needle and draw it upward. Pull the thread ends toward the back of the machine.
6. Tailor the Jeans
1 Slide into the jeans and determine how much length needs removal. Use a measuring tape to be precise. Divide the number in half.
7. Tailor the Jeans
2 Remove the jeans. Roll up the bottom of each leg so the inside fabric shows.
8. Tailor the Jeans
3 Adjust the rolled bottoms so the distance between the folded edge and the hem stitching equals the final measurement from step 1. Pin the hems to the legs to hold them in place and iron the folded edges for precision.
9. Tailor the Jeans
4 Slide each hem under the sewing machine's presser foot and stitch the hem to the leg, just below the original hem stitching. Backstitch where the thread ends meet.
10. Tailor the Jeans
5 Clip the hanging threads short. Trim the fold below each hem to 1/4 inch.
11. Tailor the Jeans
6 Unfold each hem and iron them flat so the legs hang straight.
Items you will need
Home sewing machine

Heavy-duty machine needle

Matching thread

Measuring tape

Straight pins

Clothing iron

Ironing board

Scissors
Tip
Machine threading styles will vary depending on brand and model.
References
Teach Yourself Visually Sewing; Debbie Colgrove
Sew Subersive: Down and Dirty DIY for the Fabulous Fashionista; Mellissa Rannels and Melissa Alvarado
Rip It!: How to Deconstruct and Reconstruct the Clothes of Your Dreams; Elissa Meyrich
Photo Credits
Hemera Technologies/AbleStock.com/Getty Images