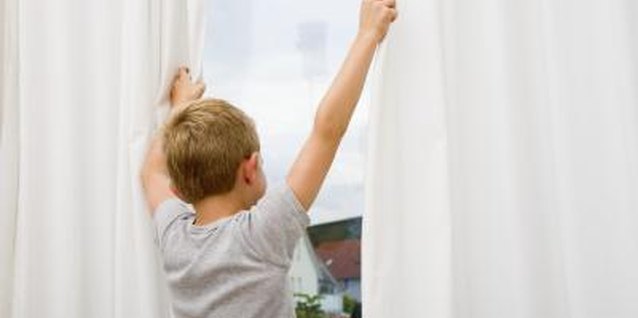 A custom, fabric-covered vinyl window shade for any room in your home is budget friendly and easy to make. With all the fabric patterns available today, the hardest part of making the shade will be deciding on a fabric. They are so quick and easy to make, you may decide to make several.
1 Unroll the vinyl shade and lay it on a flat surface with the right side facing up. This is the side that the fabric will be applied to. Measure the length and width of the shade and add 2 inches to each side and to the bottom. Cut fabric to those measurements.
2 Spray the vinyl shade with the spray craft adhesive. Carefully place the fabric onto the vinyl shade, making sure to leave 2 inches hanging over on each edge. Smooth the fabric to remove any bubbles or wrinkles. Begin at the top and work down to the bottom.
3 Flip the shade over to the back side. Snip the corners of the fabric to ensure a snug corner. Fold the excess fabric to the back side of the shade and use fabric glue to attach in place. Glue a tassel to the front bottom of the shade, if desired.
4 Let the shade dry completely before rerolling and hanging.
Items you will need
Fabric scissors

Spray craft adhesive

Fabric glue

Tassel (optional)

Decorative trim (optional)
Tips
For a different look, glue decorative trim or bows onto the shade.

Lightweight fabrics such as printed cotton work best for covering a vinyl shade.

If you are using a fabric with a repeat pattern, center the repeat pattern on the shade before cutting.
Warning
Keep spray adhesive, fabric glue, and scissors out of reach of children.
Photo Credits
Jupiterimages/Creatas/Getty Images