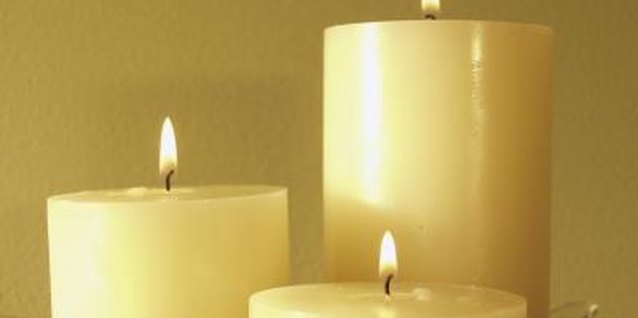 A few basic supplies -- white pillar candles, glass vases and vase filler, and a framed mirror or tray -- can form the basis for splendid table displays throughout the year. Trim the vases with a ribbon wrapper and seasonal decorative items. Collect the arrangement on a tray to set off and define the decorative space. When you use a framed mirror as a tray, it adds sparkle, and the reflections double the presence of your decorations.
1 Wrap a 3-inch wide burlap or fabric strip around a cylindrical glass vase, overlapping the ends by about one-half inch. Secure with small dots of hot glue. Wrap a narrow ribbon or twine around the vase, centering it on the fabric strip and joining the ends where the fabric ends overlap, then glue. Hot-glue an artificial floral decoration to the vase, covering the area where the fabric strips join. For example, use artificial flowers for spring, a seashell or sand dollar for summer, colorful leaves for autumn or a holly or pine sprig for winter.
2 Set a pillar candle in the bottom of the vase. Pour sand or other vase filler around the candle to a height of about one-third of the vase. Pack the filler so that it keeps the candle upright.
3 Lay the mirror or tray flat in the center of the table. Arrange multiple decorated vases containing filler and a candle on the tray. For example, place one large vase and candle in the center of the tray and two smaller vases on either side of it, parallel to the long axis of the table. Place additional seasonal decorations on the tray around the candles.
Items you will need
Glass cylinder vases or candleholders

3-inch wide strips of burlap, fabric or ribbon

Narrow ribbon or twine

Hot glue gun

Seasonal floral decorations

Sand or other vase filler material

Pillar candles

Mirror or tray
Tips
The cylindrical vase should be large enough to hold the pillar candle with about 1 inch of space all around the candle.

Remove any hanging hardware from the mirror to ensure it lays flat on the table.

Other vase fillers you can use include crushed seashells, small pebbles or stones, and glass gems or beads. If the display is to remain in place for only a few days, you can use edible items such as popcorn kernels, coffee beans, rice or jellybeans.

Cut pictures and shapes from old greeting cards for holidays and special occasions, and attach to the vase in place of floral items. For example, use angels for Christmas, bunnies for Easter and spring, or bells for a bridal shower or wedding anniversary.
Warnings
Always supervise children if a burning candle is present. Never leave a burning candle unattended.

For complete fire safety, fill the vase about three-quarters full and set a flameless, battery-operated tealight in the top of the filler.
Photo Credits
Medioimages/Photodisc/Photodisc/Getty Images