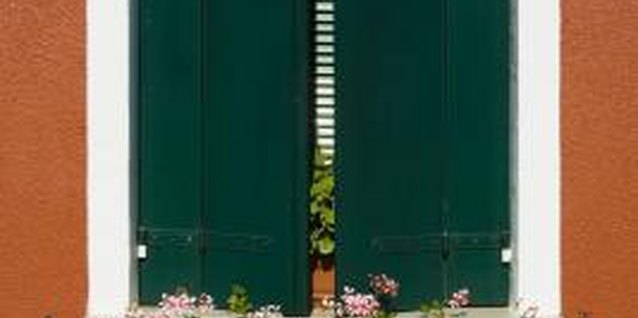 Flower boxes add color and life to small or unused areas, such as the space under windows or the outside of balcony railings. With many installation techniques, you don't need a drill to attach the flower boxes. Special hooks and brackets allow you to install flower boxes without drilling permanent holes in your vinyl siding or wood railings, and you can attach them to materials you can't drill into, such as wrought iron.
1. Siding
1 Look for holes on the back side of your flower box. Most flower boxes have pre-drilled holes for brackets or indented circles you can punch out with a small screwdriver. Punch out holes if necessary.
2. Siding
2 Measure the distance between the holes. Make a note of the measurement.
3. Siding
3 Push vinyl siding hooks into a horizontal seam in your vinyl siding at your desired height. With most of these hooks, slide the top in between two pieces of siding and pull the hook down to catch on the top of the lower siding piece with the hook facing outward. Space the hooks to match the measurements between the holes on the flower box.
4. Siding
4 Slide the flower box holes over the hooks, if the hooks are small enough to fit inside the holes. If not, place a D-ring over the first hole and screw it into place. Repeat with the other holes, and slide the D-rings over the vinyl siding hooks.
5. Railings
1 Measure the size of the flower box to ensure the bases of your railing hangers are deep enough to hold the flower box securely. Push the flower box into the base of the railing hangers. The bases of no-drill brackets are U-shaped, and the box should fit snugly inside the base. Measure the size of your railing as well, so you can choose brackets that fit over the top.
6. Railings
2 Tilt the hangers over the edge of the railing. Push it onto the railing and tilt it back down until it fits securely over the railing.
7. Railings
3 Secure the brackets with zip ties around the railing to ensure they won't fall. Flower boxes get heavier when the soil is wet, so what seems secure with dry soil might need a little extra help when the plants are watered. Zip ties add this extra level of security.
Items you will need
Screwdriver

Vinyl siding hooks

D-rings with screws

Railing hanging brackets

Zip ties
Tip
Some flower box brackets have clamps on the railing sides. After placing the brackets over the railings, tighten the twist clamps on the bottom to hold the brackets in place.
Photo Credits
Jupiterimages/Pixland/Getty Images