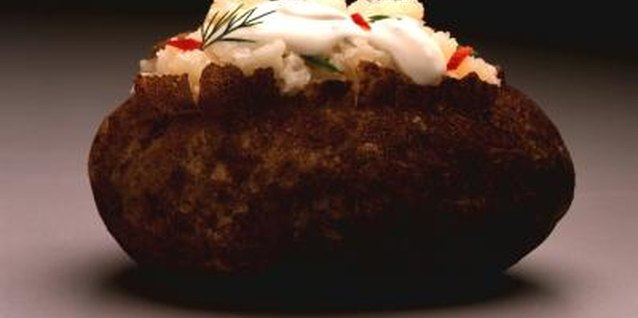 Although raw potatoes aren't suitable for freezing, potatoes that have been cooked first freeze well. Make stuffed potatoes ahead of time, then freeze the potatoes. When you've had a long day and don't have time to cook, pop the potatoes in the oven. Add a fresh tossed salad for a hearty and nutritious ready-made meal.
1 Preheat the oven to 425 degrees Fahrenheit.
2 Scrub the potatoes with a soft vegetable brush. Russet potatoes are best for baking because the potatoes are large, have a high starch content and hold their shape well. While red or yellow potatoes are good for boiling, they tend to become gummy when baked.
3 Poke several holes in the potatoes with a fork. The holes prevent buildup of steam while the potatoes are baking. Bake the potatoes until they are tender when you poke them with the fork -- about 45 to 60 minutes, depending on the size of the potatoes.
4 Remove the baked potatoes from the oven and allow them to cool until you can handle them. Cut each baked potato in half lengthwise, then use a spoon to scoop the inside of the baked potatoes into a bowl, leaving the peel, or shell, intact.
5 Make stuffing by blending your choice of ingredients into the mashed potatoes. Stir a small amount of butter into the potatoes, then mix in yogurt or sour cream to give the stuffing a thick, creamy consistency. Blend in various foods such as cooked broccoli pieces; shredded cheddar, Swiss or mozzarella cheese; bacon bits; sliced green onions or chopped ham.
6 Stir in salt and pepper or seasonings such as paprika, garlic powder, chili powder or onion salt. You can also add chopped herbs such as chives, basil, oregano or parsley.
7 Pack the filling firmly into the shells, mounding the tops. Place the stuffed potatoes on a baking sheet. Cover the stuffed potatoes lightly with plastic wrap and freeze the potatoes until they are firm.
8 Remove the stuffed potatoes from the baking sheet. Wrap each potato with plastic wrap or heavy-duty aluminum foil, then place the potatoes in a resealable plastic bag.
9 Unwrap the frozen potatoes and place them on a microwave-safe plate. Microwave the stuffed potatoes on high until the potatoes are heated through -- usually two to three minutes per potato. You can also heat the potatoes in an oven preheated to 350 degrees Fahrenheit until they are hot clear through.
Items you will need
Russet potatoes

Vegetable brush

Fork

Knife

Spoon

Mixing bowl

Butter

Yogurt or sour cream

Meat, cheese or vegetable fillings

Salt and pepper or other seasonings

Herbs

Baking sheet

Plastic wrap

Heavy-duty aluminum foil

Resealable plastic bag

Microwave-safe plate
Photo Credits
Jupiterimages/Photos.com/Getty Images