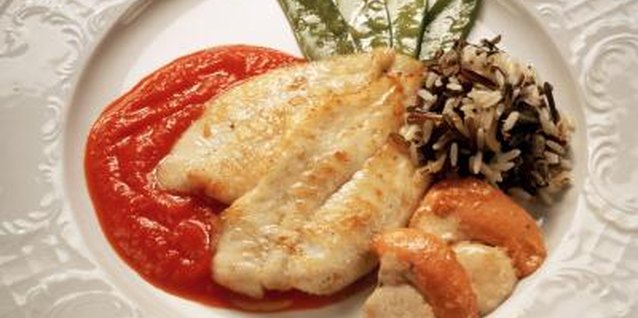 Sole is a flatfish with a flaky white meat and delicate flavor. It's often sold in thin fillets that cook quickly. Baking sole is an easy way to create a healthy dinner. Mixing sole fillets with Worcestershire sauce gives the fish dish a rich color and taste. However, Worcestershire sauce has a strong flavor, so it's important not to use too much or you'll drown out the mellow fish taste. You can help dilute the strong flavor of the Worcestershire sauce by mixing it with melted butter, lemon juice and/or water.
1 Preheat the oven to 350 degrees Fahrenheit. Rinse the thawed fish and pat it dry with a paper towel.
2 Place the fillets in a shallow, nonstick baking dish. Check that no fillets are touching. Sprinkle the fish with Worcestershire sauce or the diluted mixture that includes lemon juice, melted butter and water. Alternatively, you can make a marinade by combining Worcestershire sauce with other ingredients like lemon juice, minced garlic and pepper in a blender. Blend for about 10 seconds. With the blender still going at a low speed, add olive oil in a slow steady stream. This creates a thick mixture. Pour the mixture over the fish and marinate for about an hour in the refrigerator before cooking.
3 Slide the dish onto the middle oven rack. Bake the fish for 5 minutes per every 1/2-inch of thickness. Check that the internal temperature of each fillet registers at 145 degrees F. Remove the fillets from oven and serve.
Items you will need
Baking dish

Sole fillets, thawed

Worcestershire sauce
Tips
For a bit of texture, after removing the sole from the marinade, you can coat it with a crumb coating. Shake off any excess.

Use a meat thermometer for the safest way to check if your fish is done. If you don't have a meat thermometer, check that the meat is opaque and flakes easily when pushed against a fork.

Thaw the fish overnight in the refrigerator if you have the time. Thaw the fish in a sealed plastic bag placed in cold water if you're in a hurry.
Warnings
Don't overcrowd the fillets in the baking dish, as this can cause uneven cooking.

Do not overcook the fish, as it will turn dry and lose flavor. Never leave the fish in the hot dish, as they will continue to cook. Remove the fish from the oven and then place them on a serving plate to help stop further cooking and start the cooling process.
Photo Credits
Eising/Photodisc/Getty Images