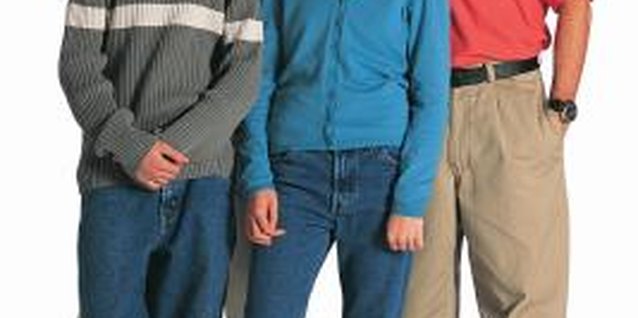 If the days of Saturday night dates with your hubby at fancy restaurants or completely non-kid-friendly clubs seem like a lifetime ago, you aren't alone. It's common for a mother to trade in acting like a partner with her husband for playdates, baby bath time and other parenting activities. "Mommy burnout" occurs when a woman loses balance in her life from being hyper-focused on her child, according to the AskDr.Sears website. If you can recall every one of your 4-year-old's boo-boos that you kissed during the last year, but can't remember the last time you kissed your husband, striking a parenting-wife balance is a must.
1 Admit that you can't do everything for everyone. Giving your all to your children is admirable, but it can leave you feeling drained. Taking on an overly abundant list of child-related tasks -- such as your first grader's school bake sale, your preschooler's class reading time and your teen's dress shop outing all on the same day, along with your normal daily tasks of bathing, feeding and spending play time with your kids -- will leave roughly zero hours and zero minutes for your husband. While you shouldn't shirk all of your parenting responsibilities, you can bow out of the occasional chore -- such as heading the school fundraiser -- to spend some of your day with your spouse.
2 Ask for help. There's nothing wrong with asking for someone else to step in occasionally. Start with your husband, letting him know that he -- as the dad -- needs to involve himself more in the kids' world. communicate with your husband when it comes to dividing up the parenting tasks. Dad may feel that because he goes out to work, and you stay home, that he's exempt from all parenting when he comes back at the end of the day. Let him know that with some extra help -- such as taking over dinner prep or bath time -- that you will have more time for him later on. You can also enlist the help of grandparents, friends or a babysitter to make more time for your partner.
3 Make couple time for you and your husband. Schedule a date night once a week -- or once every other week if necessary -- where someone else watches the kids. Plan an evening out with your husband to have a kid-free dinner at a restaurant that doesn't hand out crayons with the menu or have a cartoon character mural on the wall. If you have the time, see a movie with an above "G" rating, go dancing or check out a local band. If you absolutely can't get a night out, or don't have a sitter, create your own in-home date night after the kids go to sleep. Set the table with your finest place settings, and not the plastic place mats, and have a candle-lit dinner.
4 Listen to your husband, and ask him to listen to you. While the bulk of your communication may revolve around which child just got a "D" on her English test and how much the preschool application costs, you need to take time to talk about more adult-like issues. Don't forget that your husband has feelings too. Although he might not always say that he is feeling neglected, he may not understand why you shower the kids with love, but treat him like a stranger.
Tips
Tell your husband that you love him. You probably say those three little words to your children several times a day. Spread the love around and let your partner know just how important he is.

Have a family fun night. Combine being a parent and a wife into one special activity such as going to a Broadway-style musical, cosmic bowling or having a quiet at-home movie night.

Take some time for yourself. The more relaxed you are, the easier it is for everyone around you to feel comfortable.

Carve out a few minutes to put on some makeup, take your hair out of its ponytail or put on shoes that don't have rubber soles. Although your husband doesn't expect that you will suddenly transform into a super model, he'll appreciate the effort that you take in wearing clothes that aren't covered in baby spit-up.
Warnings
Avoid blaming your husband. Constantly telling him that you have no free time because he's a bad dad or a lazy husband won't help anyone. While you do need to express your concern over his lack of helpfulness at home, use a constructive method instead of making him feel like a fool.

Don't bring up your marital conflicts in front of the kids. Your children don't need to worry about Mommy and Daddy fighting, and certainly don't need to think that it's their fault for taking up too much of your time.
Photo Credits
Comstock/Comstock/Getty Images