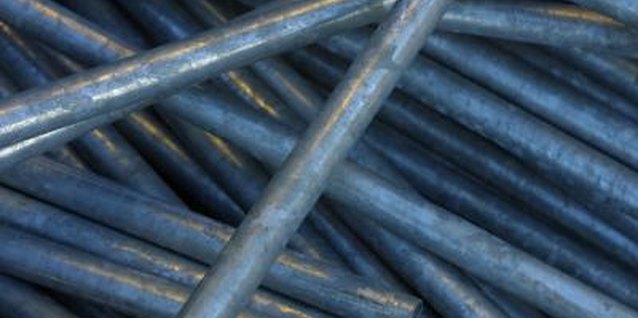 Galvanized pipe might not seem like an obvious choice for bedroom furniture, but whether you're looking for a new and trendy centerpiece for your bedroom or your teenage son has just discovered his latest fad, you can transform a pile of galvanized pipe into the focal point of any bedroom. You can paint the completed bed frame to coordinate with the room's decor or let the metallic color of the pipe blend in with other metal accents in the bedroom.
1 Cut the pipe to size for all of the bed's pieces or have them cut for you at your local plumbing or home store. Cut four legs for the bed, making each one 12 inches in length. You can adjust the length if you prefer a higher or lower bed frame. For a twin bed, cut two pieces of pipe for the frame's length, each 75 inches in size, and two pieces for the width, each 39 inches in size. Cut two pieces for the headboard sides. Make each piece the height you would like the headboard, and then cut one more for the top bar of the headboard, 34 inches in size.
2 Assemble the length and width of the bed frame. Attach one width piece of pipe and one length piece to a 90-degree side outlet tee. Use hex key fittings for easy assembly or thread each end of pipe with a pipe threader and use screw-on fittings. You have now made an L-shaped frame. Connect a 90-degree side outlet tee to each free end of the L-shape and attach another piece of pipe to each one to complete the rectangular bed frame.
3 Slide one leg into each of the outlets. Do not tighten yet. Slide a flange fitting onto each leg to make feet for the bed.
4 Flip over the frame to stand it on its feet and legs. Designate a head and foot of the bed and slide the headboard sides into the outlets at the head. Tighten all of the fittings with a hex key or screw on tightly.
5 Slide a 90-degree elbow on the top of each of the two headboard pipes and insert the headboard top bar into the fittings. Tighten with the hex key or screw on tightly.
6 Cut 15 pieces of 1- by 4-inch boards, each to a length of 40 inches. Cut two more boards, each 71 inches long.
7 Lay out the 71-inch-long boards parallel, spaced 39 inches apart. Lay the 40-inch-long boards perpendicular across the two long boards, spaced approximately 1 1/2 inches apart. Screw the short boards to the long boards with wood screws and place this assembled wooden mattress support on the new galvanized steel frame.
Items you will need
Pipe cutter (optional)

2-inch galvanized pipe

90-degree side outlet tees (4)

Pipe threader

Flange fittings (4)

90-degree elbows (2)

1- by 4-inch wood boards

Saw

Wood screws
Tips
To make a queen-size bed, cut two pieces of pipe for the length, each 80 inches in size, and two pieces for the width, each 60 inches in size.

If you don't have a pipe threader, you can call local plumbing and home stores to see if any offer a pipe threading service.
References
The Big Book of Hacks: 264 Amazing DIY Tech Projects; Doug Cantor
Photo Credits
Jupiterimages/Photos.com/Getty Images