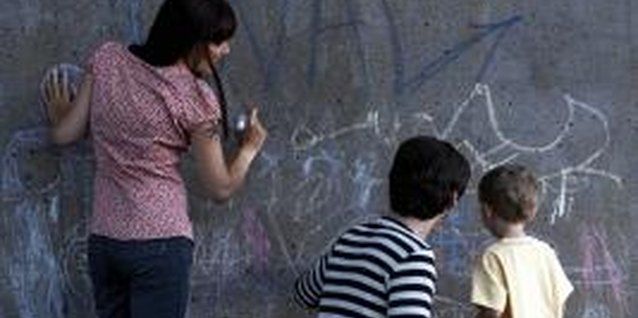 Whether you want to write your shopping list on the kitchen wall or turn your kids' bedroom walls into erasable art canvases, chalkboard paint allows you to do it. Chalkboard paint, made by a variety of manufacturers, can be found in craft stores, hardware stores and paint stores. You can paint a wall with chalkboard paint using techniques similar to painting with any other interior paint. But it can get messy when you use black for a conventional blackboard, so take the time to prepare the surface and room properly.
1 Prepare the surface by wiping the wall with a damp sponge and a splash of white vinegar. Patch any nail holes with spackling compound and a putty knife and allow them to dry, then sand them down with a piece of fine-grit sandpaper.
2 Tape the wall with painter's tape to create straight lines at all of the edges. Run a piece of tape along the ceiling, down each side of the wall where the corners meet, and along the baseboard or floor. Apply the tape to the surfaces you won't be painting, not to the wall you will be painting.
3 Spread a dropcloth on the floor to catch drips.
4 Cover the wall with primer if you will be painting over semi-gloss paint, wood or unpainted drywall. Allow the primer to dry thoroughly with the windows open.
5 Mix the chalkboard paint thoroughly by stirring it with a paint stirrer for at least one minute. Pour the chalkboard paint into a paint pan.
6 Paint the wall with chalkboard paint by rolling it on in long, even strokes with a paint roller. Use a small roller or foam brush to get into the corners, as a bristle brush can leave streaks.
7 Follow the manufacturer's instructions for a second coat.
8 Allow the chalkboard paint to cure for three days before writing on it.
Items you will need
White vinegar

Sponge

Spackling compound

Putty knife

Fine-grit sandpaper

Painter's tape

Dropcloth

Latex primer, white

Large paint roller

Small paint roller

Chalkboard paint

Paint pan
Tips
Erase your blackboard wall with a damp rag instead of a chalkboard eraser.

Apply a coat of magnetic paint underneath the chalkboard paint to make a combination magnetic board and blackboard.

Chalkboard paint comes in a variety of colors, so don't feel restricted to black.
Photo Credits
Noel Hendrickson/Photodisc/Getty Images