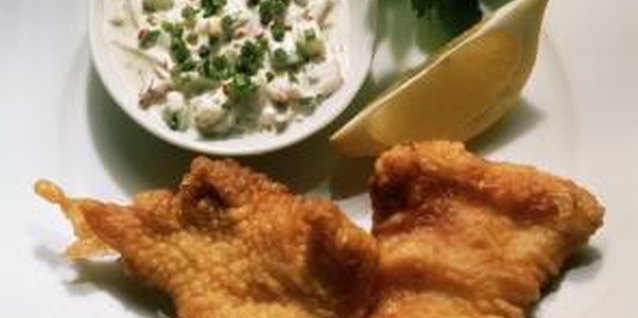 Fish is lower in unhealthy fat than beef and offers more healthy fats, but getting kids to eat it can be a challenge. Tilapia is a good choice because it is milder than many types of fish -- but not tasteless. Choose fresh tilapia when you can, and buy fish that has been farmed in America or South America. Baking is the healthiest choice for cooking breaded fish, but kids love the extra crunch when it's fried.
1. Breading
1 Crack an egg into a wide, shallow dish such as a pie plate. Add enough milk to cover the bottom of the dish to a depth of about 1/4 inch. Use two eggs and water if you are avoiding milk. You can also use egg substitute instead of real eggs and leave out the milk or water.
2. Breading
2 Beat the egg and whatever liquid you're using together until they're thoroughly blended and smooth. Season the mixture with salt, pepper, and herbs and spices that you prefer. Tilapia has a delicate flavor that goes well with almost any seasoning, including chili powder, cilantro, curry, dill, garlic, fennel, herbs de provence, lemon pepper, parsley and tarragon.
3. Breading
3 Fill a second dish with seasoned bread crumbs, panko bread crumbs, cornmeal mixed with flour or plain flour. Don't be afraid to experiment until you find the breading that your family likes best. Be cautious with commercial breading mixes, because they're often high in sugar and salt. Lightly season both the liquid and dry ingredients if you're using plain bread crumbs, cornmeal or flour.
4. Breading
4 Rinse your tilapia filets under a gentle stream of cool water and shake off the excess.
5. Breading
5 Coat a filet in the seasoned liquid, letting the excess drip off for a few seconds.
6. Breading
6 Coat both sides of the wet filet in the breading, patting it gently into place to make it stick. Lay the filet on a bare plate and coat the remaining filets before you start cooking any of them.
7. Baking
1 Preheat your oven to 425 degrees Fahrenheit. Breaded filets will bake just fine at any temperature from 350 degrees to 450 degrees Fahrenheit. If you are baking something else at the same time – like oven fries – set the temperature where it needs to be to get dinner baked all at once.
8. Baking
2 Coat a baking tray lightly with nonstick cooking spray.
9. Baking
3 Lay the breaded filets out on the oiled baking sheet, leaving some room between them.
10. Baking
4 Spritz a very light coating of nonstick cooking spray over the top of the breaded filets. Or sprinkle or mist a bit of olive oil on them instead. Adding a fine coat of oil helps crisp them.
11. Baking
5 Bake the filets until the top is brown and crisp. This will take from five to 10 minutes, depending on the oven temperature. Flip them with a pancake turner.
12. Baking
6 Cook the fish on the second side for an equal amount of time and check the filets for doneness. They are done when the top is crisp and golden and the inside is fully opaque and flakes easily.
13. Frying
1 Coat the bottom of a wide skillet with 1/4 inch or so of oil. Canola oil works well, as will vegetable or peanut oil.
14. Frying
2 Heat the oil until a little bit of breading mix sprinkled into it sizzles. If you're using an electric fryer, set the temperature to 350 degrees Fahrenheit.
15. Frying
3 Lay four or five filets carefully in the hot oil. Don't crowd the pan because this can bring the temperature of the oil down too far, so the breading won't be crisp.
16. Frying
4 Cook the filets for five minutes per every inch of thickness.
17. Frying
5 Turn the filets carefully. Tongs are less likely to splash you with hot oil than a pancake turner.
18. Frying
6 Cook the filets for another five minutes for every inch of thickness. Check for doneness by flaking the thickest part with a knife, or inserting the tip of an instant-read thermometer. Fish is done when it reaches 140 degrees Fahrenheit.
19. Frying
7 Put the first batch of filets on a clean plate lined with a double layer of paper towels to absorb the oil. If you're cooking several batches, put the plate in a warm oven to keep the fish hot and crisp.
Items you will need
Pie plates

Eggs

Milk

Seasonings

Bread crumbs, cornmeal or flour

Baking tray

Nonstick cooking spray

Pancake turner

Skillet

Oil

Tongs

Paper towels
Tip
Let your uncooked breaded fillets sit in the refrigerator for about 30 minutes if you're going to fry them. This helps the coating stay on in the hot oil.
Warning
To avoid contamination, never use the same platter for raw and cooked fish.
Photo Credits
Eising/Photodisc/Getty Images