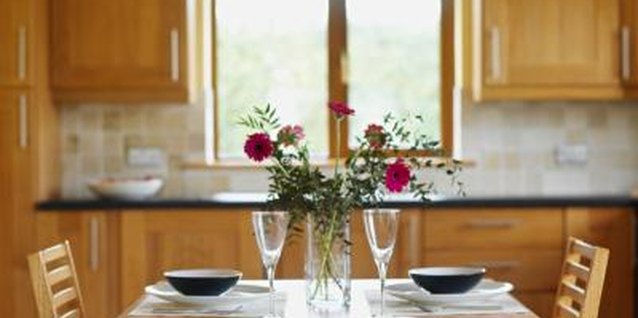 Cabinets fill most of the wall space in the typical kitchen and they have a huge impact on your kitchen's appearance. Over time, smoke and cooking grease build up on your cabinets, leaving them dull and dingy. Add in smudges of food and fingerprints from hungry kids looking for snacks, and the cabinets can make even a clean kitchen look dirty. Restoring the fresh shine to your wood cabinets gives the entire kitchen an instant makeover.
1 Wash your cabinets with gentle liquid dish washing soap and water. Dry them with a clean rag.
2 Spray a dry rag with furniture polish, and buff your cabinets. Start at the top, and work your way down.
3 Wipe away any excess oil, then buff the cabinets one more time with a clean, soft cloth.
Items you will need
Liquid dish washing soap

Rags

Furniture polish
Tip
Give the cabinets near the stove a quick wipe-down after frying food to prevent a buildup of grease.
Photo Credits
George Doyle/Stockbyte/Getty Images