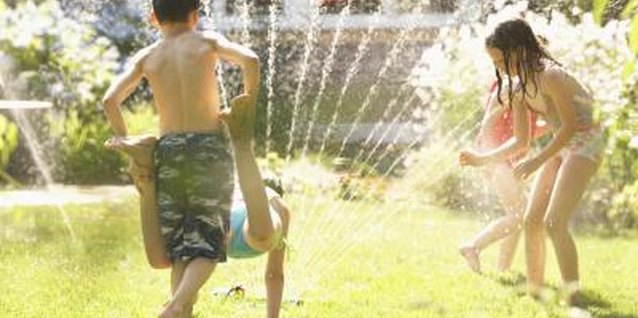 You sprayed a non-selective herbicide on the weeds growing in your lawn, and the grass is finally weed-free. However, you now have brown spots where the weeds used to be since the weed killer knocked out some of your grass as well. You don't have to live with a spotted lawn. By removing the dead grass and adding new grass, your lawn can look full and healthy again.
1 Dig out the dead grass with a spade or shovel, removing all the roots as well as the blades.
2 Dig out an extra 2 inches of soil so the soil level is below that of the surrounding grass. Turn the soil with a trowel so it's loose for 4 to 6 inches below the surface.
3 Add about 2 inches of compost to the bare spots, turning it into the top layer of loose soil with a trowel. This should bring the soil level about even with the surrounding soil.
4 Add a starter fertilizer to the soil, and rake it into the top 2 inches. Starter fertilizers have extra phosphorus to help the roots establish quickly, such as a 5-10-5 or a 10-20-10. Most fertilizers give you instructions on how to apply over large areas, which isn't very helpful when you have only small spots to cover. Using a 5-10-5 fertilizer with instructions to spread 20 pounds over 1,000 square feet, that's 1 pound per 50 feet. If your patch is only 1 foot square, you need about 3 ounces of fertilizer.
5 Moisten the soil, then spread grass seeds by hand until you have about 16 seeds per square inch. Totally covering the area with seeds means they will have too much competition for moisture and nutrients, and the patch repair might not work. Too few seeds means it will take longer for the patch to fill in. You don't have to count every seed, but spread them so that you can see a small amount of soil between the seeds.
6 Rake a thin layer of soil over the grass seed. Cover it with a mulch such as straw or grass clippings. Water the area immediately, and water it every day until the seeds germinate, which usually takes about two weeks. In hot weather, water up to four times per day, or often enough to keep the soil moist.
Items you will need
Spade

Shovel

Trowel

Compost

Fertilizer

Grass seed

Sprinkler
Tip
If you don't want to wait for seeds to grow, buy a few squares of sod and cut them to fit the patch sizes with a utility knife. Prepare the soil in the same manner, but remove extra dirt so the sod lays even with the existing grass.
Warning
Keep kids, pets and your lawnmower off newly seeded areas until the grass is about 2 inches high for best results.
Photo Credits
Jack Hollingsworth/Photodisc/Getty Images