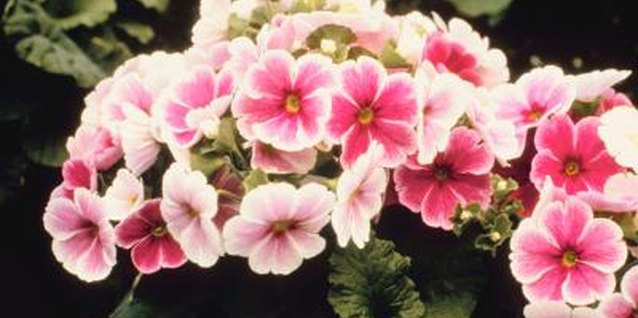 A pot of brightly blooming primroses (Primula spp.) supplies indoor color or jazzes up an outdoor container. These woodland flowers grow as perennials in U.S. Department of Agriculture plant hardiness zones 7 through 9, but they are frequently treated as annuals because they often fail to bloom in future years. Properly caring for your primroses helps them flower at their best in their first year, and it just might help the plants thrive so they can flower again.
1 Place indoor primroses in a location with full, all-day sun exposure, such as a south-facing window. Provide outdoor pots with direct morning sun and bright but indirect afternoon sun. Maintain temperatures below 80 degrees Fahrenheit and preferably near 50 degrees at night.
2 Water the primroses as soon as the soil surface begins to dry. Empty the drip tray beneath the pot after every watering. Cluster several pots together to raise humidity around the primroses or set the pot on a tray filled with gravel and water so the evaporating water raises the humidity.
3 Pinch off the old flowers as soon as they wilt to encourage further blooming. Pinch just above the topmost leaf on each flowering stem to remove the entire old flower structure.
4 Mix 1/2 teaspoon of 24-8-16 soluble fertilizer with one gallon of water. Water the primroses with the solution every 14 days.
5 Monitor indoor and outdoor plants for aphids and watch for slug damage on outdoor plants. Rinse aphids off the plants with a sharp spray of water. Remove slugs by hand.