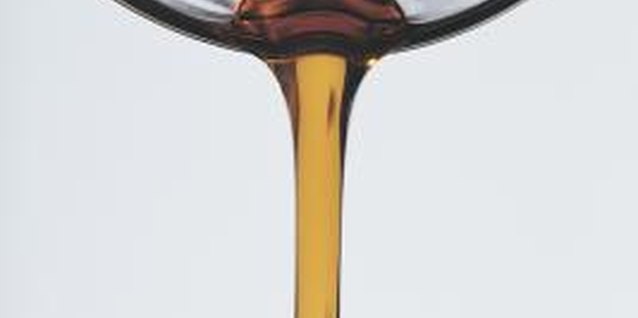 The Honda Harmony is a self-propelled lawn mower that is convertible for mulching, discharge or bagging depending on the homeowner's needs. The routine maintenance required to keep the Honda Harmony mower operating properly includes changing the oil. Instead of taking the mower to the dealer or a mower repair shop the next time an oil change is due, follow a few basic steps to change the oil at home and save both time and money.
1 Park the Honda Harmony mower on a level surface. Locate the fuel valve on the left side of the mower engine beside the air cleaner. Turn the valve to the off position, which is straight up.
2 Remove the combination oil filler cap and dipstick from the oil filler neck. Position an oil drain pan on the ground on the same side as the oil filler neck.
3 Tilt the mower over so that the oil will drain from the oil filler neck and into the oil drain pan. Tilt the mower from the handlebars or from the opposite side of the mower depending on which position is easier or based on personal preference. Allow as much of the oil as possible to drain from the mower.
4 Lower the mower so that all four wheels are on the ground. Carefully pour 10W30 oil into the oil filler neck. Check the oil level periodically with the dipstick as you fill so you don't add too much oil. Add oil until the level is between the lower and upper level marks on the dipstick.
Items you will need
Oil drain pan

SAE 10W30 oil

Rag
Tips
Check the oil level by completely inserting the dipstick into the oil filler neck. Pull the dipstick from the filler neck, wipe with a rag and insert it back into the filler neck. Pull the dipstick out once again and read the oil level.

Dispose of used motor oil in an appropriate manner. Contact a garage, auto supply or community recycling center.

To make doubly sure that the engine can't start while you change the oil, remove the spark plug prior to starting maintenance.
Photo Credits
Comstock/Comstock/Getty Images