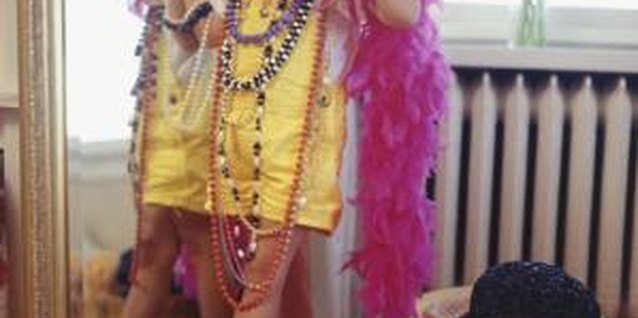 You turn your back for just a minute, and hear a loud clump. You turn to see your precious darling wearing your favorite dress and high heeled shoes, trailing your brand new silk scarf on the floor. After you finish laughing and taking a picture, you probably begin to wonder how to keep your tiny fashionista out of your closet. Doorknob covers only work on some doors. Many closets use accordion pleated doors that don't have traditional knobs. Before you start pricing an antique armoire to store your best clothes, check out ways to protect your closets from busy little people.
1. Cabinet Latch
1 Place the slide section of the cabinet slide lock over the handles of the door. The slide lock is a long U-shaped plastic piece that fits into the space between the handle and the door. These latches can be found at most baby or hardware stores.
2. Cabinet Latch
2 Place the locking portion on the end of the slide lock.
3. Cabinet Latch
3 Slide to hold the handles together.
4. Window Latch
1 Close the doors and place the closed window sash lock hardware where the two doors come together. Make sure that the lock is out of the child's reach, but low enough to be convenient to adults.
5. Window Latch
2 Mark the holes for the screws on both doors by making a dot on the door through the holes on the hardware with the pencil.
6. Window Latch
3 Drill pilot holes in the door where marked.
7. Window Latch
4 Place the screwdriver bit onto the drill.
8. Window Latch
5 Screw the window sash lock onto one of the doors.
9. Window Latch
6 Screw the catch onto the other side.
10. Window Latch
7 Close the sash lock to lock the doors together. Open the sash lock to unlock the doors.