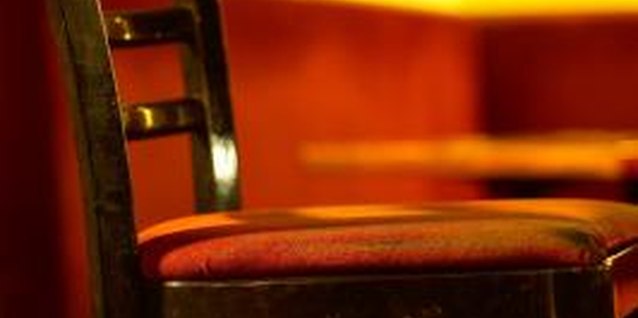 Popular in modern design themes, black lacquer furniture has a high sheen and deep black color. Lacquer finishes are durable and hard to prevent damage from everyday use, but the deep black color often shows the tiniest bits of dust, dirt and smudges from little fingers, making dusting and cleaning a weekly task. Lacquer finishes might sustain damage by the use of chemical-based wood cleaners, so water and a mild wood soap are ideal.
1 Dampen a fiber-free soft cloth with warm water and wring the cloth out until just slightly damp.
2 Wipe in long, straight lines along the furniture to remove dust and debris from the finish.
3 Use a dry fiber-free rag to wipe up any moisture left behind by the damp rag. Wiping the moisture off the furniture will help prevent streaks.
4 Pour a dime-size amount of oil soap made specifically for lacquer finishes onto a dry, fiber-free rag. Dab the oil soap on the back of the furniture in an inconspicuous place and rub to ensure that the finish does not become hazy or come off onto the cloth.
5 Rub the oil soap into the finish using long, straight wipes along the surface of the lacquered furniture. The oil soap will restore the shine of the lacquer and remove smudges, fingerprints and other marks that are caused by the natural oils of your skin.
Items you will need
Fiber-free soft cloth

Oil soap
Warnings
Test all cleaning products on an inconspicuous place before using on your furniture.

Do not use solvents or heavy furniture polishes on lacquer furniture.

Use only soft cloths to clean the furniture; paper towels, coarse washcloths and regular towels can cause scratches on the finish.
Photo Credits
Hemera Technologies/Photos.com/Getty Images