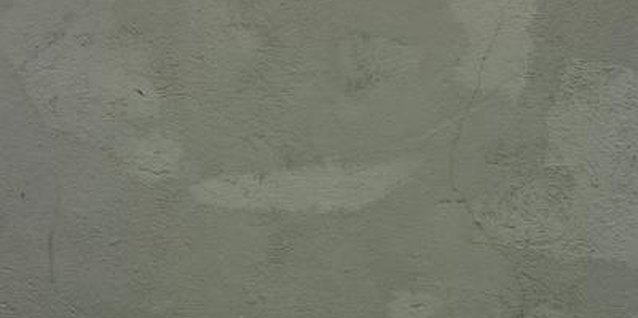 If you're planning on staining a concrete floor, the most important step in the process is cleaning. Anything that prevents the stain from penetrating the concrete will mean a less-than-satisfactory result. Grease, oil, dirt, paint and anything else that's not a part of the actual concrete will prevent the stain from penetrating the concrete. Once you have a clean floor, you can focus on finishing it with a beautiful stain.
1 Sweep the concrete clean of as much dirt and debris as possible.
2 Hose down or wipe down the floor with clean water.
3 Rent a rotary scrubbing machine with a pad specially made for scrubbing concrete floors.
4 Scrub the floor with a trisodium phosphate (TSP) solution. TSP solutions are available under a variety of brand names at home centers.
5 Clean up any remaining glue, caulk, tar or any other material with a paint scraper. If the material doesn't come off with scraping, try a chemical stripping compound. Be sure to wear chemical-resistant gloves.
6 Scrub the floor again with TSP, using the scrubbing machine.
7 Rinse the floor with clean water.
8 Allow the floor to dry thoroughly before applying stain.
Items you will need
Broom

Dust pan

Hose or bucket

Rotary scrubbing machine

Concrete scrubbing pad

Chemical-resistant gloves

Trisodium phosphate
Tip
If you're still not getting all the stains up with just TSP, you might need to try a more aggressive method. Try mixing 1 ounce of trisodium phosphate, 1 cup of water and 1 cup of an absorbent material such as diatomaceous earth to form a paste. Spread the paste over grease and oil stains. When the paste dries, scrape it up and inspect the area. Tough stains may need two or three treatments.
Photo Credits
Photos.com/Photos.com/Getty Images