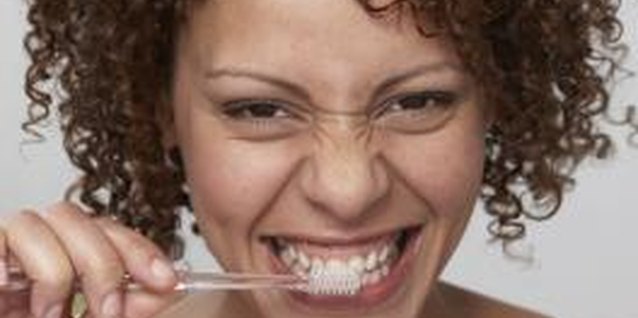 Although the American Dental Association recommends replacing your toothbrush every three to four months, you may find that you need to clean and deodorize it in the interim. If you've had a cold or dropped your toothbrush and are unable to replace it, disinfecting it is your next best option. However, there's no need to purchase an expensive ultraviolet disinfecting system. Proper washing, soaking and storage of your toothbrush will leave it clean and smelling fresh.
1 Wash your toothbrush with hot water and unscented antibacterial soap. Squirt a drop of soap into the palm of your hand and gently brush the soap in circles until you work up a lather. Rinse the brush in hot, running water.
2 Fill a small disposable cup with antiseptic mouthwash or hydrogen peroxide. Place the bristles of the brush into the liquid.
3 Allow the brush to soak in the disinfectant solution overnight. In the morning, pour the liquid down the drain.
4 Rinse your toothbrush in hot, running water for 10 seconds.
5 Store your toothbrush upright so the water can drip downward from the bristles. Allow the toothbrush to dry completely before using it again.
Items you will need
Unscented antibacterial soap

Antiseptic mouthwash
Tip
Disinfect your toothbrush as often as you like, but always disinfect after carrying your toothbrush in a travel container or being sick. Travel containers allow the bristles to stay wet longer than they normally would, which gives bacteria more time to grow.
Photo Credits
Jupiterimages/Polka Dot/Getty Images