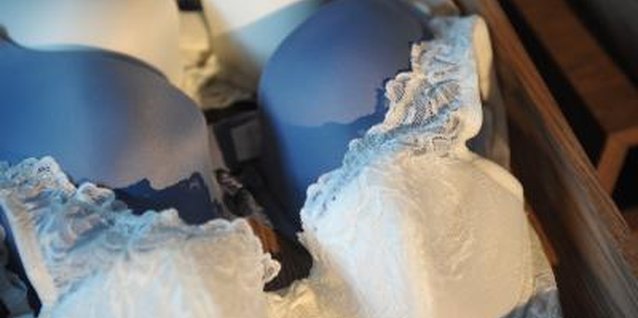 Whether you lean toward the feminine vibe of lace and satin bras and chemises or the utilitarian, clean-line aesthetic of pieces like cotton panties and bralettes, cleaning your lingerie requires some specific care that doesn't apply to other garments. Consider your options and clean according to the methods that best fit your needs and your lifestyle.
1 Wash extremely delicate lingerie pieces by hand. Hand-wash by combining a teaspoon of lingerie wash or mild detergent with lukewarm water in a sink. Submerge the lingerie and leave it soaking for approximately 15 minutes.
2 Gently scrub lingerie clean by hand, if necessary, or simply leave pieces soaking. Carefully squeeze the soapy water out of each garment and then rinse the soap out in cool, fresh water.
3 Dry heavier pieces by first laying them out on a towel. Gently roll the towel and then unroll to absorb excess water. Lay all pieces flat on towels or hang them up to dry.
4 Machine washing some lingerie is possible even if the tag says hand-wash only. Place lingerie into mesh zipper bags, particularly those created for the purpose of washing delicates and referred to as "lingerie bags." Set the washing machine to cold and use the gentlest cycle. Add mild detergent. Hang your lingerie to air-dry.
5 Fill a 1-gallon glass jar three-quarters full of lukewarm water and add one cap of detergent as a way to create a miniature washing system that is gentler on delicates than a washing machine, suggests Lucky Magazine. Add several pieces of lingerie, secure the lid and shake until the soapy solution foams. Remove the lingerie, rinse it under water and air-dry.