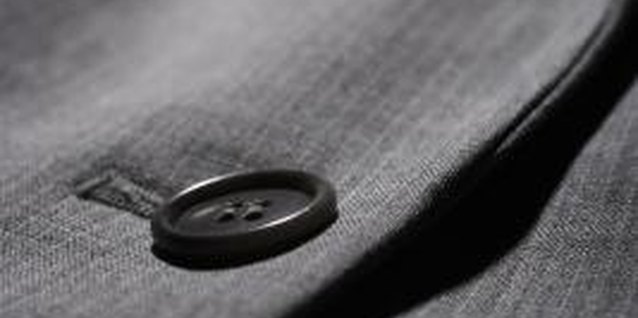 After a few power lunches, contact with a dirty car and enduring a sweating session, your suit coat may need some attention. Although regular trips to the dry cleaner are recommended for deep cleaning, you can address some spots, stains and smells. By making a small investment in suit cleaning tools, you can easily care for your suit coat and protect your business attire investment. Always read the care label of your suit jacket before you attempt to launder it.
1. Steam Clean Coats
1 Hang the suit coat on a wooden hanger or on a suit valet. Place the hanging jacket somewhere you can clean it easily.
2. Steam Clean Coats
2 Fill a handheld or upright steam cleaner with water. Allow the steamer to heat up.
3. Steam Clean Coats
3 Move the wand tip over the suit fabric to remove surface dirt, smells and wrinkles from sitting. Steam along the elbows to remove creases.
4. Home Dry Cleaning Kits
1 Treat stained areas with the stain treatment product that comes with your kit. This may be a towelette or a spray-on product.
5. Home Dry Cleaning Kits
2 Place the jacket inside the bag included with your kit, along with a dry cleaning solvent sheet. Only place one jacket inside the bag at a time. Overstuffing the bag can cause wrinkling and creases.
6. Home Dry Cleaning Kits
3 Place the bagged jacket in the dryer. Set the dryer for 30 minutes. If the product directions differ, follow the product's recommended drying time.
7. Home Dry Cleaning Kits
4 Remove the coat promptly to avoid wrinkling.
Items you will need
Wooden hanger or suit valet

Handheld or upright steam cleaner

Dry cleaning kit

Suit brush
Tip
Brush your suit every day after hanging it up to control dirt.
Photo Credits
Thomas Northcut/Photodisc/Getty Images