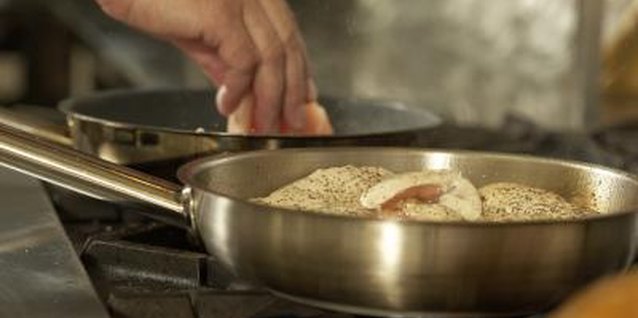 Whether you are sauteing chicken medallions, cutlets or whole pieces of chicken, marinating the poultry in plain yogurt, a mildly acidic agent, tenderizes the meat and adds tangy flavor. For even more flavor, season the yogurt with cumin and fresh dill for a Greek-inspired recipe; cumin and coriander for Indian cuisine; or lemon, rosemary, thyme and garlic for a complex, fresh taste. Even a short marinating period and a thin coating gives chicken a distinct flavor.
1 Pat each chicken piece dry before starting the coating process. Use paper towels or a clean dishcloth, making sure that you add the dishcloth to your washing pile immediately after cooking so it doesn't get used again.
2 Pierce the chicken deeply in a few places with a paring knife or fork to help the yogurt penetrate into the meat. If you want to cook chicken with the skin left on, lift the skin where possible to pierce the meat underneath the skin.
3 Stir the yogurt to distribute the whey evenly and dissolve any lumps. Add any seasonings, including salt and pepper, and stir those in as well.
4 Measure enough yogurt into a bowl or plastic bag to completely coat all sides of the chicken. As a general rule of thumb, add at least 1/2 cup of yogurt for each pound of meat. Err on the side of adding more rather than less yogurt, so the chicken is thickly coated.
5 Cover the container tightly with plastic wrap or a lid and place it in the refrigerator for at least 30 minutes or as long as two days.
6 Lift the chicken pieces with tongs to place in a preheated, oiled skillet. Some of the yogurt will slide off, but enough will cling to each piece to keep the yogurt tang. Cook according to your recipe.
Items you will need
Paper towels or a clean dishcloth

Paring knife or fork

Glass, stainless steel or heavy plastic bowl, or large food-grade plastic zip-lock bag

Spoon

Plain yogurt

Salt and pepper

Seasonings, optional

Skillet

Tongs

Cooking oil
Tips
Use Greek yogurt, which is thicker than regular yogurt and adheres to the chicken more easily.

Wash your hands with soap and water immediately after handling raw chicken before going on to the next cooking steps.
Warning
Washing the chicken before cooking is not a good idea, as it can allow bacteria to spread to your counters and sink and does not kill bacteria on the chicken itself. Only cooking kills harmful bacteria.
Photo Credits
Jupiterimages/Photos.com/Getty Images