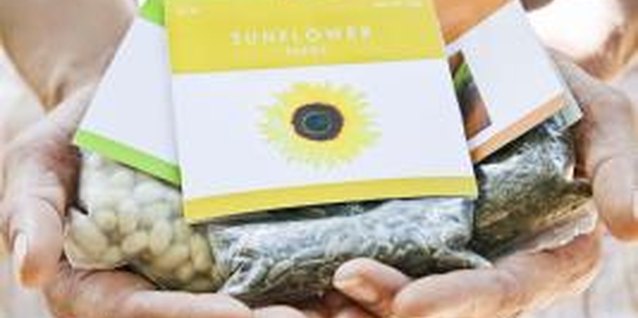 Collecting seed from annual evening stock (Matthiola longipetala or Matthiola bicornis) is an interesting experiment in plant genetics with the side benefit of saving on your garden budget. The sweetly scented flowers, commonly purple, pink or white with single or double petals, don't often come true from seed the next year, even when they aren't hybrids and you grow only one variety of the self-pollinating plants. White-flowered plants tend to revert back to pink or purple and double-flowered varieties revert to single, while seed from single-flowered stock can yield plants with double-flowered blooms. Whatever your results, the 1-foot flowers look and smell wonderful in the garden, and saving the seed is a snap.
1 Watch for 2-inch-long, cylindrical seed pods, called siliques, to form on your evening stock as flowers fade and petals drop off.
2 Clip off the faded flower stalks with the pods attached as the siliques turn from green to yellow -- they split down the center and disburse the 50 to 60 seeds inside when they turn brown. Choose stalks from only the healthiest plants.
3 Place the seeds stalks into brown paper bags -- loosely so air flows around the plant material --- and place the bags in a warm, dry area protected from the weather until the siliques split open.
4 Swish the stalks back and forth against the sides of the bag, or run your hand over the open pods to dislodge all seeds into the bag.
5 Pour the seeds into a paper envelope. Store the envelope in a jar and seal the lid. Store the jar in a cool, dry place until it is time for planting. Seeds can store for about 12 months without losing any quality.
Items you will need
Bypass pruners

Paper bags

Envelopes

Jar with lid
Tips
Seeds germinate in 7 to 21 days in soil that is about 70 degrees Fahrenheit. Start seeds indoors, eight weeks before your area's last frost date for planting outdoors.

Lighter green seedlings are double-flowered and dark green plants are single, if you want to select based on flower form once seeds germinate.

Stock is considered safe to plant in areas where children and pets play.
Warning
If bacterial blight was a problem in your garden -- demonstrated by black and brown spots on leaves and dieback -- soak seeds for 10 minutes in water that is at least 130 degrees Fahrenheit before planting them to eliminate this seed-borne disease.
Photo Credits
Jupiterimages/Brand X Pictures/Getty Images