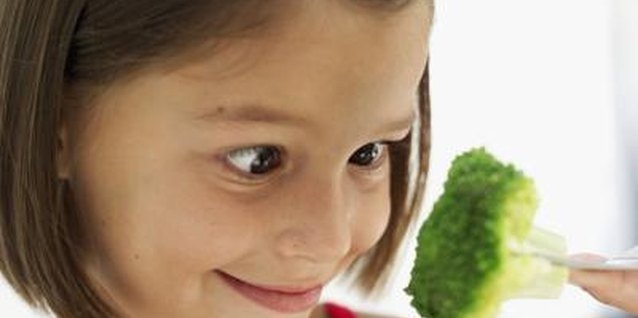 Your kiddo's no fool. She likely knows from previous experience that broccoli doesn't taste nearly as yummy as pizza -- and she's probably a little tired of you trying to get her to eat it. She's not alone. Even adults often push limp, overcooked broccoli around their plates without taking a bite. To entice your toddler or preschooler to dig into a bowl of vitamin and mineral-rich broccoli without wrinkling her nose, look beyond your traditional methods of cooking the dish -- and have a few tricks up your sleeve.
1. Cooking Broccoli
1 Invite your little munchkin to help you prep the vegetable in hopes that having a hand in its preparation will motivate her to taste her work. Let her rinse the broccoli in cool water and pat it dry with paper towels.
2. Cooking Broccoli
2 Chop the broccoli while your child watches from a distance. This is a good time to give her a reminder like, "Only adults are allowed to use knives. Knives can hurt, and it's not safe for you to touch them." Cut the bottom inch off the stalk -- and then cut the stalk into half-inch pieces until you reach the florets. Pull the florets apart with your hands, or ask your kiddo to do it.
3. Cooking Broccoli
3 Preheat the oven to 400 degrees and pull out a baking sheet. Have your kiddo help you arrange the broccoli pieces in a single layer on the sheet, drizzle with olive oil and season to taste -- a bit of lemon juice or low-sodium soy sauce can work well. Bake the dish for around 10 minutes, flipping the pieces after five minutes and checking them every minute or two afterward. Take the broccoli out when it's just starting to turn brown and crispy. Top it with grated cheese (cheddar or Parmesan are good choices) or cheese sauce and serve it as a side dish, or use the broccoli in another dish.
4. Using Cooked Broccoli
1 Work cooked broccoli into your munchkin's breakfast in the hope that she's still too groggy to protest. Slide cooked pieces into the center of an omelet along with turkey and tomatoes, or toss it into a frittata mixture along with roasted peppers and mushrooms.
5. Using Cooked Broccoli
2 Slip broccoli into your child's lunch using quick and easy recipes. Heat up a bowl of potato or creamy tomato soup, chop some cooked broccoli -- and toss it in for the last few minutes of heating. You can also offer a scoop of hummus or veggie dip for lunch -- and serve cooked broccoli florets along with pepper strips and baked crackers for dipping. Another option is to toss the broccoli with cooked pasta, chopped pieces of cooked chicken or low-sodium lunch meat, chopped tomatoes and Italian dressing.
6. Using Cooked Broccoli
3 Use that most wonderful of disguises -- melted cheese -- to make broccoli the favorite part of your child's dinner. Roll out store-bought pizza dough and spread ricotta cheese over one-half, leaving 1 inch of plain dough around the border. Top the cheese with broccoli, fold the uncovered dough over, pinch the border closed -- and cook until the dough starts to brown. You can also make a creamy, cheesy treat by melting shredded cheese into mashed potatoes and mixing in chopped broccoli. Or, if your kiddo likes pesto, slip the chopped broccoli into a bowl of pasta along with the sauce and top with plenty of grated Parmesan.
Items you will need
Broccoli

Water

Paper towels

Cutting board

Knife

Baking sheet

Olive oil

Salt

Pepper

Spatula

Cheese

Eggs

Veggies

Soup

Hummus or veggie dip

Baked crackers

Pasta

Chopped meat

Salad dressing

Pizza dough

Potatoes

Pesto
Tips
If you don't have the time or inclination to oven-roast your broccoli, saute the pieces with the olive oil in a saucepan over medium heat. Stir the broccoli every minute or so -- and let it cook until the pieces are bright green for tender pieces, or let them go another minute until they start to brown to make the dish crispy.

Cooking broccoli with dry heat and a bit of oil will make it more enticing than simply steaming -- and kids often prefer roasted or sauteed broccoli to steamed. But if your child prefers soft veggies, bring an inch of water to boil in a saucepan over medium-high heat. Put the broccoli in a steamer over the pot, or place the pieces right in the water and cover the pan. Let the broccoli cook until it's bright green and a fork easily slides into a piece, which will take around five minutes.
Photo Credits
Stockbyte/Stockbyte/Getty Images