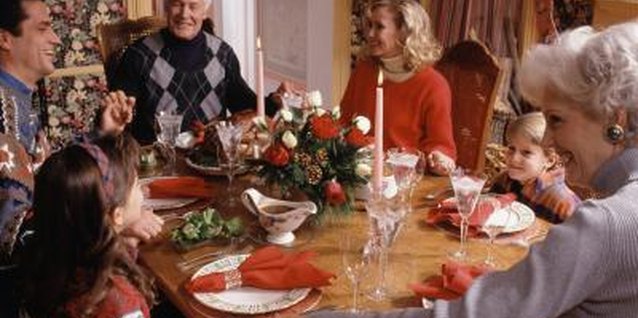 Most of the dishes on a typical Christmas menu aren't technically difficult, but getting them all into the oven and to the table on time demands some clever juggling. Unless you are hosting a master chef, there is no need to make dozens of elaborate dishes. Keep it simple so you can spend more time on what really matters -- your family. To fit everything in your oven, cook the main dish first, followed by the side dishes. Writing out a detailed timeline out can help keep you on track.
1 Buy a smoked ham or turkey, and buy only the size you need. These meats are precooked so you only need to reheat them, and there is no stress about whether the turkey is really done or not. In general, you will need around 1/2 pound of meat per person. If you opt to cook a large turkey, cook it in a roasting bag, which cuts down on cooking time, keeps the meat moist and helps keep it warmer when you take it out of the oven.
2 Put the ham or turkey in the oven first and heat it at 325 degrees Fahrenheit until heated through. Remove it from the oven and cover it with foil to keep it warm.
3 Slide side dishes, such as roasted vegetables or green bean casseroles, into the oven and raise the heat to 375 F. These dishes need only 30 minutes or so to heat. Roasted vegetables are a particularly good choice because you can roast several types of vegetables such as red peppers, Brussels sprouts and carrots together.
4 Round out the holiday meal with cold salads, such as a green salad dressed with pears, pomegranate seeds, blue cheese and pecans.
5 Use your stovetop to make side dishes. For example, to make caramel carrots, simply simmer carrots in water and a little butter and sugar or honey. Cook the carrots until the water evaporates and the carrots become golden brown. Don't forget to make a few kid-friendly side dishes, such as mac and cheese.
Items you will need
Smoked ham or turkey

Roasting bag

Aluminum foil
Tips
The secret to managing the Christmas dinner crazies is advance preparation. Make the pies, side dishes and rolls ahead of time. Serve pumpkin pie cold, and you can reheat fruit pies after the main meal is cooked, if desired. Almost all pies taste better when made a day ahead. You can reheat the rolls in the microwave for a few seconds.

Use a slow cooker or roasting oven to your advantage. Counter top roasting ovens work beautifully to cook a whole turkey. You can also use these ovens to heat side dishes or to keep foods warm. Slow cookers take up less room than a roaster, but also keep foods warm.

If you have kids underfoot, you probably spent Christmas Eve installing batteries and filling stockings. Come Christmas Day, the last thing you want to do is spend the day fussing over a meal. Think like a caterer and prepare not only the food, but also the accoutrements ahead of time. Set the table a day or two ahead. Set out serving dishes and spoons and write a quick note about which food goes in which dish. Write out instructions for preparing the meal so others can quickly jump in to help you.
Warning
Keep food safe by refrigerating it no more than two hours after removing it from the oven. Refrigerate prepared side dishes for up to 24 hours before cooking.
Photo Credits
Dick Luria/Photodisc/Getty Images