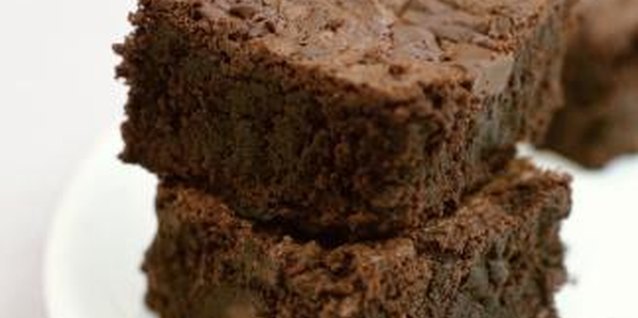 Whether driving kids to a soccer tournament, coming home late from work, or needing to make an emergency visit to the vet, life often gets in the way of cooking or baking. Luckily, with a freezer in every home, pre-made meals and treats have become a standby. Whether preserved from your last large batch of brownie making or bought from the local store, baking frozen uncooked brownies is a quick way of bringing a treat to your local potluck or having a freshly made dessert for the end of a long day.
1 Remove the brownies from the freezer 8 hours before you plan to bake them, whether the night before or the morning of. Insert them into a fridge set to a temperature below 40 degrees Fahrenheit, according to the U.S. Department of Health & Human Services guidelines. This allows them to defrost in a chilled environment, which allows them to cook more evenly when baked.
2 Preheat your oven to the temperature called for in your original recipe, on the package, or, if you do not have this information, to 350 degrees F. Arrange the rack in the middle of the oven.
3 Remove any plastic wrap or covering that may be over the tray. Insert the brownies into the oven. Bake according to the time in the recipe, the package, or between 25 to 30 minutes. Test for doneness by inserting a toothpick and testing if it comes out clean when the top is slightly shiny and a crackle texture has formed.
4 Remove the brownies from the oven using the mitts. Allow to cool completely before slicing with the sharp knife, otherwise it will create tough edges around the cuts. Remove the desired amount of pieces and then cover the try to prevent drying. Eat the brownies within one to two days.
Items you will need
Frozen uncooked brownies in baking dish

Toothpicks

Oven mitts

Sharp knife

Plastic wrap
Tip
Top with slivers of chocolate or frosting to add extra flavor and texture to the brownies.
Warning
Do not take brownies directly from the freezer to the oven, because they require 50 percent more baking time and the edges will become hard and the middle will be undercooked.
Photo Credits
ITStock Free/Polka Dot/Getty Images