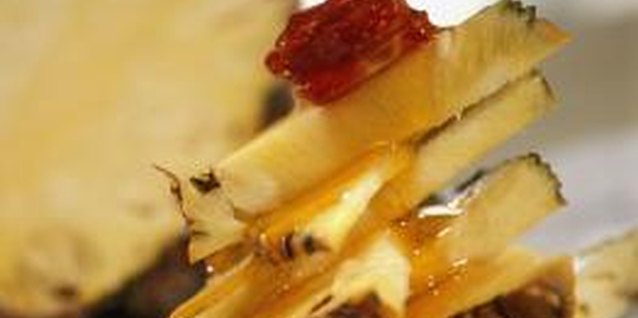 Fresh, tender pineapple is available all year long and complements a vast array of main dishes. Grilled pineapple shish kabobs are visually stunning with criss-cross grill marks, and they take on a sweet and smoky flavor that explode in your mouth when you bite into them. To grill fresh pineapple shish kabobs, you just need a hot grill, some metal or wood skewers, some simple ingredients and a few minutes to brown and heat them thoroughly.
1. Fresh Pineapple Preparation
1 Place the pineapple on its side and cut off the top, just beneath the course green leaves. Cut off the bottom 1/2 inch of the pineapple. Discard the ends.
2. Fresh Pineapple Preparation
2 Orient the pineapple by standing it on end and remove the outer skin by slicing downward. Remove all of the skin and discard.
3. Fresh Pineapple Preparation
3 Slice lengthwise and cut the skinned pineapple in half. Cut each half in half again. Remove and discard the fibrous core from each of the four halves.
4. Fresh Pineapple Preparation
4 Cut the remaining pineapple into 3/4-inch cubes, taking care to make them uniform in size. Place the cubes in a glass bowl and add your choice of marinade. Honey and lime juice make an excellent marinade. Dust the pineapple with a tablespoon of cinnamon and sugar for added flavor complexity.
5. Kabob Assembly
1 Assemble the shish kabobs by spearing each pineapple cube onto a skewer and sliding it 2/3 of the way down the skewer. By leaving an inch or two at the base, you prevent pineapple from falling off, and you also provide a "handle" to grab each skewer.
6. Kabob Assembly
2 Load each skewer with the pineapple cubes, leaving a narrow gap between each cube on the skewer. This allows each piece of pineapple to heat through, evenly.
7. Kabob Assembly
3 Place the assembled shish kabobs on a large platter and transport them to the grill area.
8. Grill Preparation
1 Preheat the grill to 350 degrees Fahrenheit. Using a wire brush, clean the grate surface completely.
9. Grill Preparation
2 Apply a light coating of vegetable oil on the grate surface, and place the pineapple shish kabobs over direct heat.
10. Grill Preparation
3 Turn the skewers every few minutes, as needed, to ensure the pineapple achieves those beautiful grill marks and gets heated through. You will notice a beautiful glistening, bright yellow skin on the pineapple.
11. Grill Preparation
4 Remove the shish kabobs from the heat and you can either slide the pineapple off the skewers or just serve them as a whole kabob.
Items you will need
Sharp knife

Glass bowl

Metal or wood skewers (pre-soaked)

Marinade

Vegetable oil
Tips
If you use wooden skewers, soak them in water for 20 minutes before placing them on the hot grill surface.

You can substitute canned pineapple wedges for fresh pineapple if fresh pineapple is not available in your area.
Warning
Pineapple wedges served right off the grill can be very hot, if eaten immediately. Allow them to cool for a few minutes.
References
Photo Credits
Medioimages/Photodisc/Photodisc/Getty Images