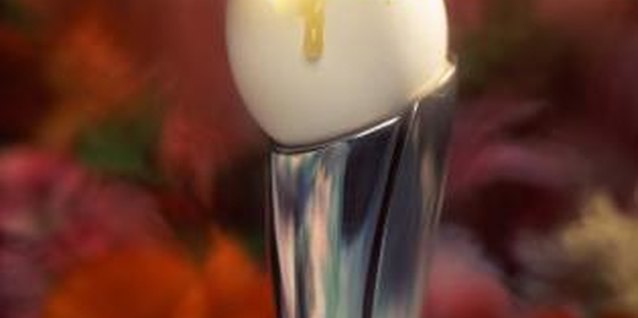 Half-boiled eggs, also known as soft-boiled eggs, are simple for even beginning chefs to create. They're quick to cook and provide a budget-friendly meal. The key to getting the perfect egg is all in the temperature and the timing. If you boil the egg at too low a temperature and time, the egg whites will still be runny. If you boil it for too long or at too high a temperature, the yolk will become firm. Unlike hard-boiled eggs, soft-boiled eggs are usually served in the shell.
1 Fill a small saucepan with enough water to cover the eggs by 1-inch. Remove the eggs from the saucepan.
2 Place the pan over high heat and bring the water to a rolling boil.
3 Place the eggs in the water and cover the pan with a lid.
4 Turn the heat off under the eggs and wait six minutes for the eggs to cook.
5 Fill a sink with ice water while you wait for the eggs to cook.
6 Place the eggs in the ice water and wait two or more minutes for the eggs to cool.
7 Remove eggs from the ice bath and place in the egg cup.
8 Slice the top inch off the egg and serve.
Items you will need
2 large eggs

Small saucepan

Ice

Knife
Tips
Adjust the cooking time according to the size of the egg. Use less time for small eggs and more time for extra-large.

Add up to 1 teaspoon of salt to the cooking water if you plan on peeling the eggs. The salt can help with shrinking the egg membrane, and thus may make peeling easier.

Soaking the eggs in ice water is an important step that helps keep the hot egg whites from cooking the soft egg yolk. This is because eggs continue to cook, even after they have been removed from a heat source. Skipping this step may lead to a firmer yolk.
Warnings
Do not eat a half-boiled egg if the whites are still runny, as this indicates the egg is not properly cooked.

Do not remove the saucepan from the hot burner during cooking. Simply turn the burner off and let the saucepan sit on it as it cools. This provides the perfect temperature for the eggs to cook.
References
Photo Credits
Jupiterimages/Comstock/Getty Images