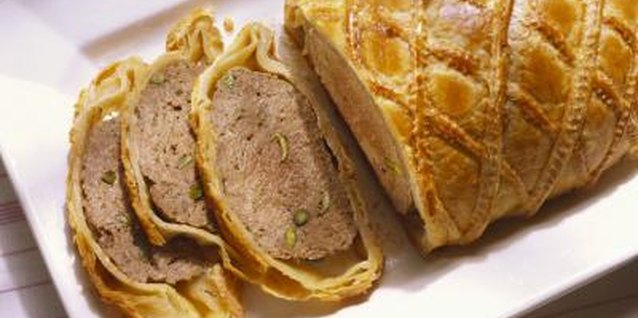 Just about everyone has her own way of making meatloaf. Some people add breadcrumbs while others insist that only chunks of white bread will do. Some people add catsup while others would rather not. No matter what goes into your signature meatloaf, consider topping it off in a light, puff pastry. Not only will it turn heads, but it will add a tasty, flaky accompaniment to a time-honored dish.
1 Thaw a frozen puff pastry sheet overnight in the refrigerator. The sheets typically come folded, but you don't want to unfold it until it's completely thawed.
2 Preheat your oven to 350 degrees Fahrenheit. Spray a 9-by-5-inch loaf pan with nonfat cooking spray.
3 Place your lean ground beef or ground sirloin in a large bowl. Chop up the meat in small pieces with a wooden spoon so that you can easily combine the rest of the ingredients.
4 Add your "must-have" meatloaf ingredients like breadcrumbs or bread, milk to moisten and an egg to bind the mixture, as well as any extra ingredients like grated vegetables and/or cheese. Stir until well combined. For added flavor, you can include seasonings like a dash or Worcestershire sauce, minced garlic and/or onion powder. Add the mixture to your greased loaf pan, patting it down firmly with the wooden spoon. Bake the meatloaf for 1 hour.
5 Roll out the puff pastry on a lightly floured surface. Plan your puff pastry strategy: You can place an entire sheet of puff pastry over the meatloaf so that it resembles a blanket, or you can cut the puff pastry in rectangles or triangles and overlap them on the meatloaf for a more decorative touch.
6 Remove the meatloaf from the oven and let it cool for a few minutes. Drain the fat from the meatloaf. Scoop up the meatloaf with a large spatula and place it in on a baking sheet. Drape the pastry over the meatloaf and press to seal. Tuck the ends under the meatloaf if you're completely wrapping it in the pastry.
7 Brush the top of the puff pastry with melted butter or a mixture of egg and water to add color and flakiness.
8 Bake the meatloaf with the puff pastry topper for about 15 minutes or until an internal thermometer reads 160 degrees Fahrenheit. Allow it to cool for several minutes before slicing and serving.
Items you will need
Large mixing bowl

Ground beef or ground sirloin

Wooden spoon

Salt and pepper

Bread or breadcrumbs

Chopped onion

Egg

Worcestershire sauce, minced garlic, garlic and onion powder (optional)

Mozzarella cheese or grated carrot (optional)

9-by-5-inch loaf pan

Nonfat cooking spray

Puff pastry

Large spatula

Oven-proof serving dish

Melted butter (optional)

Egg and water mixture (optional)
References
Campbell's: More Creative Cooking with Soup: Meat Loaf Supreme; Campbell Soup Company; 1986.
Photo Credits
Eising/Photodisc/Getty Images