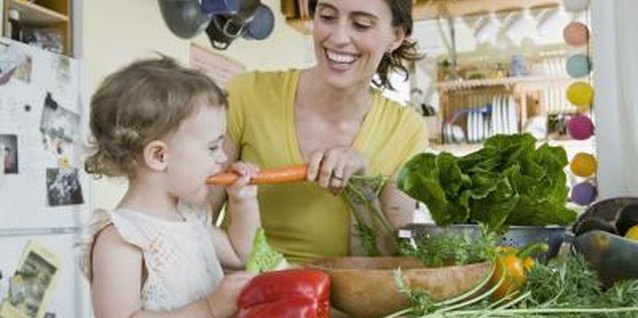 Cooking for toddlers is often challenging, especially if you have a picky eater or a toddler who always wants your full attention as soon as you walk into the kitchen. You know the ways goes – as soon as you put a pot on the stove, your toddler permanently attaches to your leg or tirelessly tugs on your arm, demanding you play with him, look at his picture, give him a snack, or maybe all three! While meatloaf takes a while to cook, prep time is quick -- plus your little one can even lend a hand. You can also pick and choose ingredients for your meatloaf, so if you have a picky eater, adapting the recipe for his particular taste will result in more food in his stomach and less going to the dog.
1. Basic Meatloaf
1 Add ground meat, oatmeal and eggs to a large bowl. Forget the mixing spoon and prepare to get messy. Ground meat mixes best with other ingredients when you use your hands, so roll up your sleeves and start mixing. If your toddler likes to get messy, too, have her wash her hands and help – she'll probably love squeezing the mixture between her fingers.
2. Basic Meatloaf
2 Toss in a handful or two of your little one's favorite vegetables, like peas, grated carrots or zucchini, chopped green beans and corn -- or use a partial package of mixed vegetables. Mixed vegetables will add color and texture to the meatloaf and provide a balanced meal. You can also try adding a few of those vegetables that your child refuses to eat – because meatloaf makes them more fun.
3. Basic Meatloaf
3 Lightly oil a loaf pan to help prevent the meatloaf from sticking. For a traditional meatloaf, press the meat into the loaf pan, bake it for 50 to 55 minutes at 350 degrees. Allow it to cool before slicing and serving.
Items you will need
1 pound ground beef, turkey, chicken, pork or veal

1 cup dry oatmeal

1 egg

½ to 1 cup vegetables (optional)

Ketchup

Vegetable oil or cooking spray

Loaf pan, baking sheet or muffin tin
Tips
Get creative! Instead of using a loaf pan, shape the meat mixture into a heart, a football, the first letter of your child's name, a large circle or other fun shape -- and cook it on a baking sheet. When your meatloaf comes out of the oven, use ketchup to create a silly face or other designs on top.

To make individual mini meatloaves, press the meat mixture into 6 to 8 muffin tin cups and bake for 20 to 25 minutes. You might want to double or triple the recipe to make more mini meatloaves. Freeze them for later when you need a quick meal or snack. Just take out the portions needed and reheat in the oven or microwave.
Warnings
Always wash your hands -- and your toddler's -- with soap and water immediately after working with raw meat and eggs.

Always cook meatloaf thoroughly until it is no longer pink in the middle.

Avoid adding traditional meatloaf spices such as meatloaf seasoning, chili pepper and other spices as they might be too spicy and hot for a toddler's taste buds and stomach.
References
"Sesame Street's C is for Cooking: Recipes from the Street;" Susan McQuillan, RD; 2007
"My Watkins Cookbook: A Collection of Fast and Fun Recipes for Kids;" Watkins Inc; 1994
Photo Credits
Thinkstock Images/Comstock/Getty Images