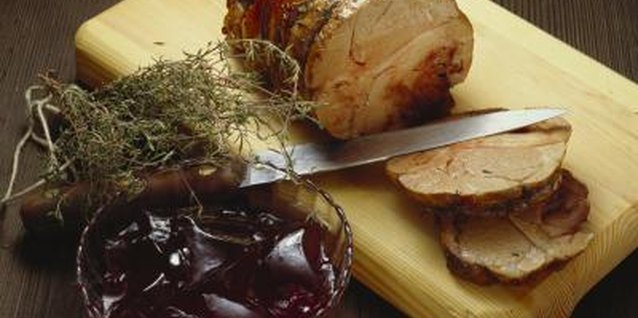 A succulent pork roast, surrounded by roasted vegetables or rice, is a tantalizing entrée at any dinner table. While such a meal is enjoyed by many, often cooks hesitate to cook pork roast for concern of it drying out. Fear not. By using a brine and roasting slow and steady, you can ensure that the pork roast is as juicy, tender, and flavorful as it looks.
1. Brining
1 Prepare your favorite brine recipe, and allow to cool. Salt and brown sugar are two common ingredients used in a brine, as are fresh herbs, bay leaves and peppercorns. Place the pork roast in a large food-safe bag and add the cooled brine. Seal the bag, squeezing as much air as possible out. Place the bag in a large enough bowl to ensure the liquid will not spill out should the bag leak. Allow the pork to sit in the brine between 12 and 24 hours, in the refrigerator.
2. Brining
2 Remove the bowl from the refrigerator 1 hour before roasting the pork. Take the pork out of the brining solution and place the roast on a plate so it can come up to room temperature prior to cooking. Discard the brine.
3. Brining
3 Rinse the pork under cool, running tap water. Pat dry with paper towels and place on another plate. Rub your favorite dried or fresh herbs and spices all over the roast. The pork roast is now ready to cook.
4. Roasting
1 Preheat oven to 300 degrees Fahrenheit. Contrary to many recipes, using a lower oven temperature provides even more cooking so that every part of the roast is moist. Adjust the oven rack to the middle position, thereby providing the most consistent heating for the roast.
5. Roasting
2 Add oil to frying pan and heat over medium high until the pan starts to smoke -- about 5 minutes. Add the seasoned roast and brown on all sides -- about 2 to 3 minutes per side. If the cut of pork has fat, be sure to brown in the pan fat side up at first. Finish browning fat side down. If you notice the pork is browning too much, lower the heat to medium.
6. Roasting
3 Place the browned pork in a roasting pan or Dutch oven. Using an open roasting pan will yield a roast with a slightly crisp crust. You may cover the pork with foil prior to cooking if you do not desire a crust. Alternatively, you may cook in a Dutch oven with the cover on during the entire cooking process.
7. Roasting
4 Cook until the internal temperature of the pork reaches 145 to 150 degrees F. To check for doneness, insert an instant read thermometer into the thickest part of the roast. There should be a little bit of pink inside when you check, as the pork will continue to cook and increase in temperature once out of the oven. A good rule of thumb is to cook for 20 minutes per pound.
8. Roasting
5 Remove the pork from the oven and place on a cutting board. Tent with foil and allow to rest for 15 minutes before slicing. When ready to slice, cut against the grain and serve on a platter.
Items you will need
2- to 3-lb boneless, center-cut pork roast

Brine

Food-safe plastic bag

Large bowl

Herbs and spices, to taste

Large skillet or frying pan

Vegetable or canola oil

Roasting pan or Dutch oven

Meat thermometer
Tips
Center cut pork roast is often labeled under other names, such as center loin roast and loin roast center cut. The butcher at the grocery store or meat market can assist in finding the correct cut of pork.

Indirect grilling and smoking are two other popular ways to prepare a pork roast. Smoking imparts an especially welcome flavor in the summertime.
Warning
Refrigeration is required during the brining process, so that the pork and brine are kept at a safe temperature of 40 degrees F.
Photo Credits
Eising/Photodisc/Getty Images