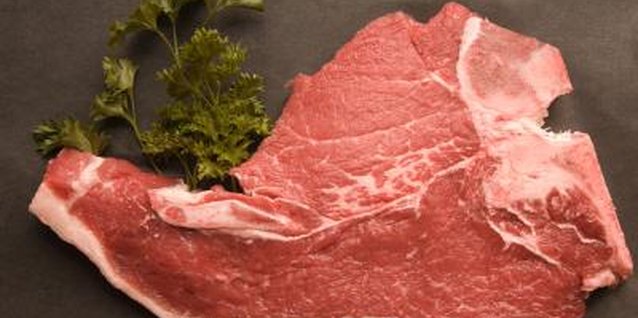 When you're looking for a quick weeknight meal, you can't go wrong with pork chops. They cook quickly and kids appreciate their slightly sweet, mild flavor. Broccoli rabe, which is related to turnips and broccoli, adds color, flavor and nutrition to the dish. Loaded with vitamin K, this green has a slightly bitter taste. Season it well with garlic and salt and serve it on the side to please finicky kids.
1 Heat the oil in a non-stick pan over medium-high heat. Add the pork chops and sear both sides until golden brown. Salt and pepper generously.
2 Toss the broccoli rabe in the pan with the pork chops and cook it for 3 to 5 minutes, or until almost tender. Add preferred seasonings, such as garlic or red pepper flakes, and cook an additional minute.
3 Pour about 1 inch of chicken broth, apple juice or white wine in the pan. Scrape the bottom of the pan with a spatula to release the tasty bits of pork stuck there. Bring the liquids to a low simmer and cook for 4 to 6 minutes, or until the sauce has reduced by half. Stir in the cream, if desired.
4 Transfer the pork chops to a serving dish and pour the sauce over them. Serve the broccoli rabe atop the pork chops or in a separate serving bowl.
Items you will need
Canola or vegetable oil

Boneless or bone-in pork chops

Salt and pepper

Broccoli rabe, washed and trimmed

Seasonings to taste

Chicken broth, apple juice or white wine

Heavy cream
Tips
If you've got adventurous kids, try adding chopped pecans or raisins to this recipe.

The pork chops are done when the flesh is mostly white and the juices run clear. A meat thermometer inserted in the chops should read 145. Total cooking time for pork chops runs between 8 and 10 minutes, depending on the thickness of the chops.

Broccoli rabe is leafier and thinner than broccoli so it cooks more quickly. For the best flavor and brightest color, cook it only until its just tender.
Photo Credits
Jupiterimages/Photos.com/Getty Images