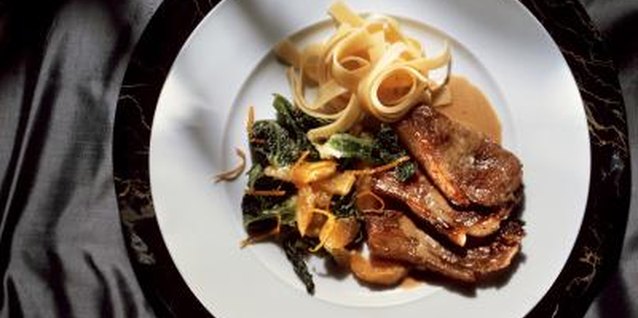 Marmalade is a topping you might expect to see only at the finest of restaurants -- as it's a sure sign that the chef knows how to maximize the mild flavor of pork chops. You might spread this sweet fruit preserve on your morning toast or bagel; however, you can also enjoy it at the dinner table by glazing your pork chops with it to add a wow factor to an ordinary meal.
1 Mix your favorite marmalade with some cider vinegar in a small bowl. The vinegar balances the sweetness of the marmalade. A good ratio is about ½ cup of marmalade to 2 tablespoons of vinegar, but taste it to ensure that you like the flavor.
2 Indulge your creative side by adding some cinnamon and, if you're using orange marmalade, some orange zest to the mixture. Look in your refrigerator or pantry for a handful of small fruit to accentuate the marmalade. For example, some mandarin orange segments or cranberries will add a more robust flavor to your marmalade glaze.
3 Trim the fat from your pork chops. Sprinkle them with seasonings -- salt, pepper and lemon-pepper seasoning work well.
4 Pour a small amount of olive oil in a heavy skillet and heat it to medium high. Brown the pork chops for about five minutes on each side. Move the pork chops to a clean plate.
5 Add a chopped red or Vidalia onion to the skillet, if you like for added sweetness and flavor. Cook the onion for several minutes to soften it, turning several times.
6 Pour the marmalade mixture in the skillet and turn the skillet to low. Stir the marmalade before returning the pork chops to the skillet. Cook and coat the pork chops in the marmalade, turning at least once before serving. Alternatively, preheat your oven to 350 degrees Fahrenheit. Spray a baking dish with nonfat cooking oil and cook the pork chops and marmalade glaze for about 30 minutes.
Items you will need
Marmalade

Cider vinegar

Small bowl

Small and pepper

Cinnamon and orange zest (optional)

Mild fruit (optional)

Lemon-pepper seasoning (optional)

Olive oil

Skillet

Plate

Onion (optional)
Tip
Test the doneness of your pork chops by inserting a meat thermometer in the thickest region. Fully cooked pork chops should reach an internal temperature of 145 degrees F. After you're finished cooking your chops allow an additional 3 minute rest time before cutting them, as this will give the juices inside time to redistribute.
Photo Credits
Eising/Photodisc/Getty Images