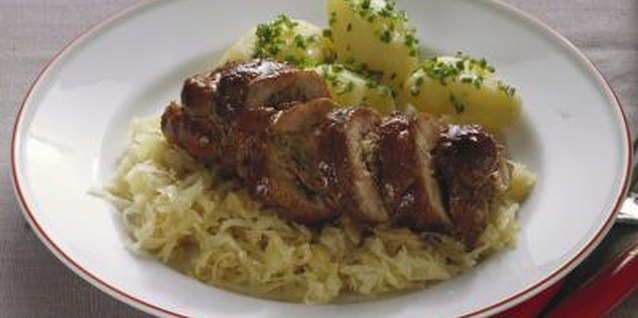 Through much of Central and Eastern Europe, pork and sauerkraut forge a most traditional partnership. They're a natural combination, with the tart acidity of the sauerkraut providing a foil to the richness of the pork. It's an especially appealing combination when the two are slow-cooked together, mellowing the sauerkraut and giving the pork a richly luscious texture. A countertop electric roaster is ideal for preparing a large batch without heating your kitchen.
1 Place the cooking insert in your electric roaster, if necessary. Arrange the sauerkraut, onions, apples and any other flavoring ingredients into a layer along the bottom of the roaster.
2 Add the white wine, juice, beer or broth, if you're using it, and then place the pork shoulder on top of the sauerkraut.
3 Cover the roaster with its lid, and set the temperature to 300 F.
4 Slow-cook the sauerkraut and pork shoulder for three to five hours, depending on the size of the roast. It's fully cooked when it reaches an internal temperature of 145 F when tested with a meat thermometer or instant-read thermometer, but for the traditional fork-tender consistency it should reach an internal temperature of 180 F or higher.
5 Remove the roast to a serving platter and let it rest for at least 10 to 15 minutes before serving. Surround it on the platter with sauerkraut, and serve it with boiled or mashed potatoes.
Items you will need
2 to 3 quarts sauerkraut, drained

1 medium onion per quart of sauerkraut

1 tart apple, peeled, cored and quartered, per quart of sauerkraut (optional)

Additional flavoring ingredients such as caraway, juniper berries, or bay leaves as desired

2 to 3 cups white wine, apple juice, beer or broth (optional)

Pork shoulder roast

Meat thermometer or instant-read thermometer

Serving platter

Boiled or mashed potatoes (optional)
Tips
Approximately one-third of the roast should be submerged under the sauerkraut and cooking liquids, if any. The roast's own juices will raise the level of liquid during the cooking time. The juices can be strained and thickened to make a sauce at the end of the cooking time, if desired.

Add a few sausages or a smoked ham hock halfway through the cooking time, for another layer of flavors. This is traditional in many parts of Europe.

For smaller roasts, use a slow cooker instead of the countertop roaster. Set it for three to four hours on the "High" setting, or six to seven on "Low."
References
The Old World Kitchen: The Rich Tradition of European Peasant Cooking; Elizabeth Luard
Photo Credits
Eising/Photodisc/Getty Images