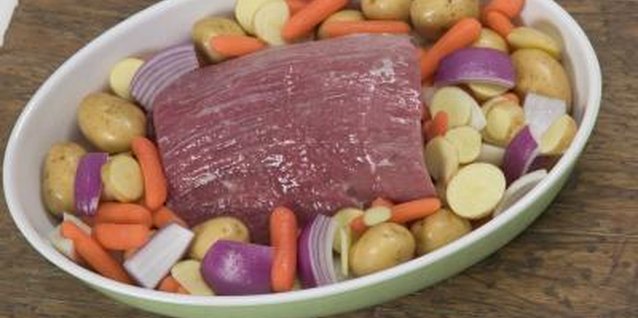 Pot roast is a classic dish composed of braised meat and vegetables in broth. Cream of mushroom soup turns a basic pot roast into a rich comfort meal that even your pickiest eaters will love. Using a slow cooker, which is a staple in many a modern mom's kitchen, means you spend less time monitoring the stove, and more time cuddling with the kids.
1 Wash the onions, carrots, mushrooms and potatoes. If any of the new potatoes seem too large, simply cut them in half. Leave the skin on the potatoes for added flavor and nutrition. Line the bottom of the slow cooker with the vegetables.
2 Season the outside of the roast with onion soup mix. Sprinkle remaining onion soup mix onto the vegetables in the slow cooker. Place the roast on top of the vegetables.
3 Top the roast with cream of mushroom soup.
4 Fill the slow cooker with water or vegetable broth until the top of the roast is covered, but not more than that. Don't want to over fill your slow cooker.
5 Seal the slow cooker and turn the temperature to low. Cook for 6 to 8 hours or until the roast is tender and pulls apart easily with a fork. Serve with whole grain rolls or biscuits to round out a perfect home-style meal.
Items you will need
Boneless chuck roast or beef bottom roast

Pearl onions

Baby carrots

New potatoes

Mushrooms

Onion soup mix

Cream of mushroom soup

Water or low-sodium vegetable broth

Slow cooker
Tips
Leave the skin on the potatoes for added flavor and nutrition.

Brown the roast in a pan before adding it to the slow cooker to create a seared crust and deepen the flavor.

Prep the pot roast in the evening and refrigerate the slow cooker crock. In the morning, just place the crock in the slow cooker base and turn it on. Dinner will be ready when you get home.
Warning
The crock and base of a slow cooker can get extremely hot, even on low temperatures. Keep an eye on the kids if they are helping you in the kitchen.
References
Labensky, Sarah et al. On Cooking: A Textbook of Culinary Fundamentals (5th Edition)
Photo Credits
Jupiterimages/liquidlibrary/Getty Images