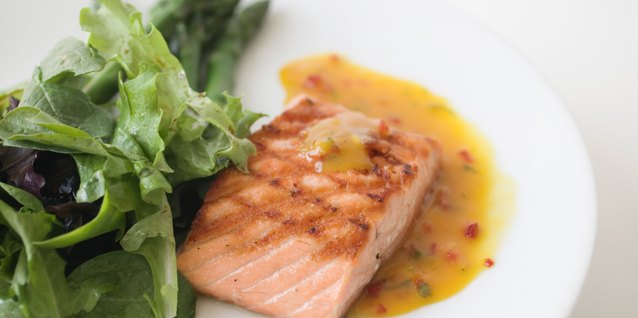 With a creamy flavor and texture, salmon is a fish for any occasion, from TV dinner to swanky dinner party. Eating salmon benefits your bones, brain, skin, and heart and is a healthy choice for the entire family. A variety of cuisines use pineapple in their fish dishes, enabling you to play with a range of spices and flavors when cooking salmon with pineapple. Using the juice both softens and flavors the fish, but due to the acidity of pineapple, you must use a little caution. A few simple steps will ensure a flavorful meal without ruining the delicate texture of the fish.
1 Combine the pineapple juice with your desired herbs and spices for flavor, or as your recipe calls for. Let sit for 15 to 20 minutes to let the flavors infuse.
2 Set the salmon in a large dish. Poke the flesh several times with a fork so that the pineapple juice will seep into the fish. Pour the pineapple juice over the salmon and let it marinade for 10 to 15 minutes.
3 Determine which cooking method you want to use. If grilling or baking, preheat to 375 degrees Fahrenheit or on medium-high heat on the side where the fish will not sit, leaving the other burner off in the BBQ. If pan-frying, pour a small amount of oil into a deep bottomed frying pan and turn to medium heat.
4 Cook the salmon for seven to nine minutes per pound. Continuously baste or pour small amounts of pineapple juice while cooking to add flavor.
Items you will need
Fresh salmon, cleaned

Large dish

Pineapple juice

Herbs and spices
Tips
Try simmering the juice, reducing it to a thicker liquid, before using with the salmon. This intensifies the flavor that is absorbed when cooking.

For a Central American flavor, add chopped garlic, onions, cilantro, dried cumin, dried coriander, and chili powder to the juice before using it on the salmon.

For a Southeast Asian flavor, combine a small amount of lime juice, cilantro and soy sauce to the juice before using it on the salmon.
Warnings
Keep a close eye on your salmon while its cooking, as overcooking can lead to a dry, chewy texture.

Do not let the juice sit on the salmon for more than 20 minutes, as the acid will cook the proteins in the fish and make it chewy when cooked.
Photo Credits
Zedcor Wholly Owned/PhotoObjects.net/Getty Images