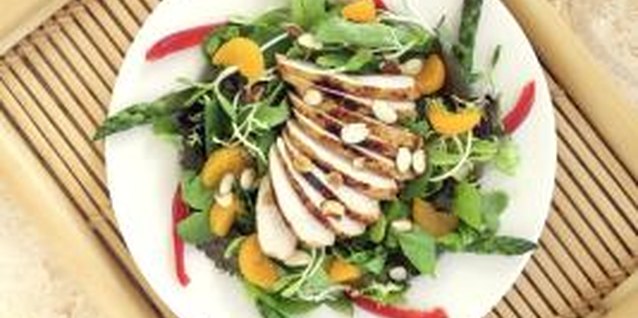 Put a little jazz into your dinner routine with the swirl-toss-shake motion required of a hard-working saute pan. If you're making slivered almonds in butter, you may even be asked to return to the stove for an encore performance because slivered almonds cook quickly. Buttery, toasted almonds might even raise your reputation as a cooking expert because they looked like you fussed when you really didn't.
1 Melt butter in a saute pan over medium heat. Your family may prefer different amounts of butter, so start with 1 tablespoon of butter for every 1/4 cup of almonds and add more butter, if necessary.
2 Add a little more butter to the pan if you're going to toss the almonds over green beans or other vegetables. One tablespoon of butter won't go the distance over both the almonds and vegetables.
3 Place the slivered almonds in the skillet and cook for 3 to 5 minutes, or until they're golden brown. Ensure that the almonds cook evenly by swirling, gently tossing and shaking the almonds in the pan -- and entertaining your family at the same time.
4 Turn over any almonds that may be sticking to the pan with a spoon. Almonds cook -- and can burn -- very quickly.
5 Remove the saute pan from the heat and coat the almonds with a little honey, if you like. For a saltier flavor, combine a little lemon juice, minced garlic, salt and pepper and pour it over the almonds.
Items you will need
Saute pan

Butter

Slivered almonds

Spoon

Honey, lemon juice, minced garlic, salt and pepper (optional)
Tip
Some people substitute olive oil for the butter, but you'll probably notice the taste difference. Also, the bubbles created in the butter help the almonds cook faster and more evenly.
Photo Credits
Thinkstock/Comstock/Getty Images