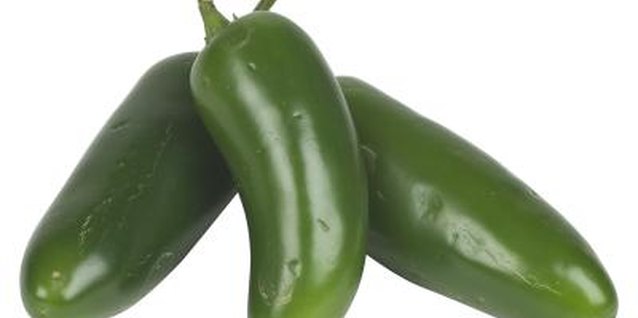 Delivering savory, smoky and spicy flavors, bacon-wrapped jalapenos make tasty appetizers for parties. Although typically baked in the oven, you can prepare large jalapenos on the grill, imparting extra flavor into each bite.
1 Soak wooden toothpicks in water for around 30 minutes before preparing the jalapenos. Soaked toothpicks help prevent burning during the cooking process.
2 Rinse the jalapenos in cool water. With a paring knife, slice each jalapeno in half, lengthwise. Remove and discard the seeds and ribs with your knife.
3 Slice the melting cheese into large matchsticks long enough to fit inside each jalapeno half. Place a piece of cheese in each pepper half. Cheeses such as Oaxaca, Provolone, Cheshire, Gruyere or regular cheddar melt well.
4 Starting at one end of the pepper, wrap a piece of bacon crosswise around it. Overlap the first end of the bacon piece with a second piece of bacon so that it doesn't unravel. Secure the bacon with a water-soaked wooden toothpick, and place the assembled bacon-wrapped jalapeno on a platter.
5 Place your assembled jalapenos in the freezer for 15 minutes. This firms up the cheese, allowing the bacon to cook first without the cheese melting into a mess.
6 Preheat the grill to medium about five minutes before cooking. Place the bacon-wrapped jalapenos on the grill over direct heat. Grill them for 10 minutes, flipping them at the halfway mark. Be cautious as you grill the jalapenos, because the bacon fat dripping through the grill bars causes flare-ups. Arrange the jalapenos on a platter and serve.
Items you will need
Large jalapeno peppers

Bacon

Melting cheese

Green onions

Garlic

Wooden toothpicks

Grilling tongs
Tips
Add additional seasonings or herbs to the jalapenos before wrapping with bacon.

Use thin bacon, rather than thick-cut bacon, for a fully cooked jalapeno.

Many recipes call for cream cheese stuffing, but it's not ideal, due to its softness.
Warning
Cooking bacon on a grill can cause flare-ups, so avoid leaving the grill unattended.
Photo Credits
Hemera Technologies/PhotoObjects.net/Getty Images