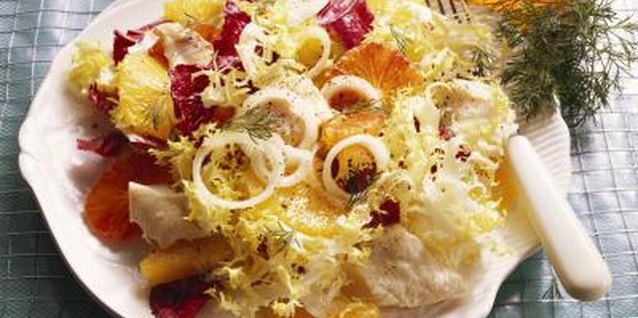 Tilapia is a white freshwater fish with a mild, light flavor. High in protein but low in fat, tilapia is also a good source of selenium, a mineral necessary for proper immune system function. One way to cook tilapia is to bake it in parchment paper, which gives the fish a steamed finish. Adding onions and tomatoes to the tilapia as it cooks will also give the fish more flavor and moisture.
1 Preheat your oven to 400 degrees Fahrenheit.
2 Cut the cherry tomatoes in half and the onion into 1-inch pieces and set aside.
3 Rinse the tilapia filets and remove the skin, if desired, and then set aside.
4 Cut the parchment paper into four pieces, each 12-by-12 inches. Fold each piece of parchment paper down the middle to form a crease. Unfold each piece of parchment paper and place a tilapia filet on one side of the crease.
5 Add an equal amount of sliced tomatoes and onions to the top of each tilapia filet.
6 Fold the other side of the parchment paper over the tilapia, onions and tomatoes. Crimp the edges of the parchment paper together to form a seal for baking.
7 Place the parchment paper sealed tilapia filets onto a baking sheet. Bake the filets on the middle rack of your oven for 30 to 45 minutes in the oven preheated to 400 degrees Fahrenheit.
8 Check one of the filets after 30 minutes to ensure it has been cooked thoroughly by unsealing the parchment paper and sticking a fork into the thickest part of the fish. Check again every five minutes until the fish is done. The tilapia will be done when the filet appears to be a solid white color all the way through.
9 Remove the filets carefully from the oven and serve.
Items you will need
Tilapia filets

Yellow onion

Cherry tomatoes

Cutting board

Knife

Parchment paper

Baking sheet

Oven
Tip
You can serve the tilapia in the parchment paper. This holds the heat in and also offers a creative presentation of the fish. Steam-baked tilapia, onions and tomatoes go well with sauteed carrots and zucchini along with wild rice.
Warning
Keep children away from the cooking and food preparation area. Always supervise the fish as it is cooking. Use chef's mitts to carefully remove the fish when it is done baking. Cook the fish thoroughly to prevent food-borne illness.
Photo Credits
Eising/Photodisc/Getty Images