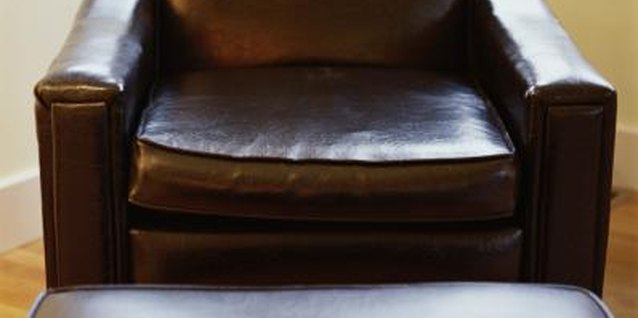 Chocolate brown leather furniture can create a sophisticated and classic look for any room in your home. However, leather furniture often lives on borrowed time once you have kids. The soft surface is vulnerable to scratches, tears, tiny holes and other damage. Since you can't really sew a hole back together without marring the surface of leather, you may think that your beautiful furniture is done for if this happens. Using a leather repair kit and other materials, you can easily repair scratches and other damage to restore your leather furniture to like-new condition.
1 Clean the area around your scratches with a mild soap or saddle soap. If you use alcohol, do so sparingly. Too much alcohol can dry the surface of the leather and lead to more cracking over time.
2 If the scratch is very deep or wide, insert the patch provided by the leather kit behind the scratch, using tweezers. If it is a minor surface scratch, you can skip this step.
3 Mix the leather filler according to the manufacturer's directions.
4 Apply the filler to the scratch, using the plastic tool provided in the leather-repair kit. Apply the filler in thin layers, taking care to contain the majority of the filler inside the scratch.
5 Cover the repaired area with a piece of texturing paper and tape it to the leather using painter's tape or masking tape.
6 Cure the filler by pressing a home iron to the area. Follow the manufacturer's instructions on the kit for the proper amount of time to cure the filler.
7 Remove the texturing paper and apply the colorant using a sponge applicator. Depending on the kit you buy and the variation in the color of your leather, you may have to apply a base coat and a top coat in complementary colors to achieve a matching color.
Items you will need
Leather repair kit in matching brown

Soap or alcohol

Masking tape or painter's tape

Iron

Sponge applicator
Tip
Use a small craft iron instead of a clothes iron to localize the heat to a smaller area.
Warning
Do not overfill the crack. This will result in a lumpy or raised area around the scratch, which will also be unsightly.
Photo Credits
Ryan McVay/Photodisc/Getty Images