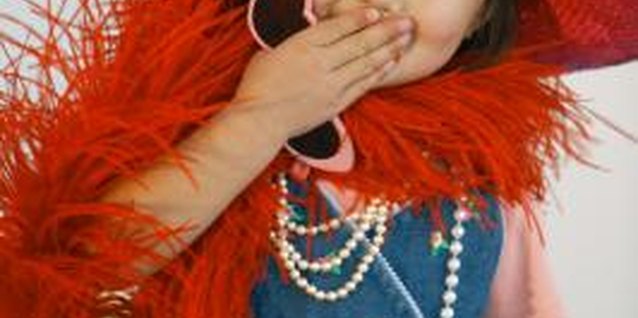 Moms and their daughters know one thing is true: Sometimes a girl, no matter what her age, needs a space where she can be someone other than herself. A little girl needs a safe retreat where she can try on clothes and accessories and become a new person. Create a dressing room for little girls that allows her to be a princess, doctor, veterinarian, bus driver, warrior or some other persona that exists only in her imagination.
1. Closet Case
1 Clear out a rarely used room or closet. The space must allow for easy exit and entry.
2. Closet Case
2 Prime the walls, if needed, and let dry.
3. Closet Case
3 Apply a new coat of paint, preferably a neutral shade such as beige, light gray or creamy white. A satin or low-luster paint provides some sheen, but it's easy to keep clean.
4. Closet Case
4 Hang a glittery star emblazoned with her name on the front of the door.
5. Closet Case
5 Mount one mirror securely to a wall or the back of the room's door.
6. Closet Case
6 Install hooks, mounted for her easy reach, and, if space permits, a hanging rod. Use both options to hold costumes, your old costume jewelry and other accoutrement.
7. Closet Case
7 Decorate the walls with decals of her favorite animated princesses, and include new favorites such as the animated veterinarian who specializes in helping stuffed animals or popular Japanese anime characters.
8. Closet Case
8 Apply decals of trees, flowers and woodland animals to lend a fairy-tale atmosphere. Alternatively, choose decals of oversized jewels and tiaras for a glamorous theme.
9. Bling It On
1 Hang a small chandelier or, if no overhead lighting is possible, install a table lamp with a decorative base in a bright color such as fuchsia or peacock blue.
10. Bling It On
2 Decorate an empty area with either a small, child-sized table or vanity on which she can lay out clothes and accessories.
11. Bling It On
3 Add seating with chairs, floor poufs, oversized pillows or stools. Paint the latter to look like toadstools by painting the legs white and the seat a bright red. A haphazard series of white circles on the seat completes the look.
12. Bling It On
4 Inject comfort with a rug in a dark neutral color that you can easily remove from the room and machine wash.
13. Bling It On
5 Add a toy chest for both storage and seating plus several flexible plastic bins with handles that allow her to carry items from room to room.
14. Bling It On
6 Store dolls and their accessories plus tea-time or other pretend games in old shoe boxes that you have recovered in decorative paper with your little girl's help. Store the boxes either along the floor or on a bookcase.