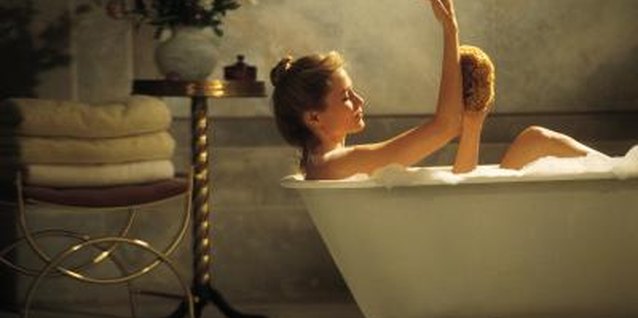 Decorative paint finishes add an element of sophistication to walls and furniture. Faux textures that mimic stone, porcelain or aged plaster add depth and dimension, while antiquing adds time-worn character. Do not be intimidated by learning how to apply a decorative finish, as most techniques do not require a lot of skilled craftsmanship or fine, artisan detail. With a few practice boards, the average do-it-yourselfer can master a faux finish in as little as a few hours.
1 Protect surrounding surfaces with plastic sheeting if necessary. Use painters tape along the edges of the ceiling and around door and window trim. Clean the surface to be painted, removing all dirt, grime and fingerprints.
2 Fill in nail holes, deep scratches or gouges with spackle and lightly sand when dry. Apply one to two coats of primer with a roller and allow it to dry overnight. Roll on two coats of the base paint color. Allow the paint to dry between coats and before sponging.
3 Mix 4 parts glaze to 1 part paint in a plastic bowl or container. Dip the sea sponge in water to dampen. Wring out excess water until sponge is only slightly damp.
4 Dip the sponge in the glaze mixture, wiping off excess glaze on a newspaper, paper towels or scrap cardboard. Start near the ceiling in a corner of the room and lightly pounce the color on the wall, using quick, dabbing motions. Space the initial blotches apart by about 12 inches, working in small 4-by-4 foot sections.
5 Go back and fill in the empty spaces between blotches before dipping the sponge in the glaze again for a variegated look with plenty of base color showing through. Repeat the process until you cover the entire wall. Layer in a third color to create more depth.
Items you will need
Painters tape

Plastic sheeting

Primer

Paint roller

Paint tray

Two to three paint colors

Glaze

Plastic container

Sea sponges

Bowl of water

Newspaper, paper towels or cardboard
Tips
Use your wrists to rotate the sponge slightly with each dab, so you do not use the same surface for every sponge print.

Use smaller sponge pieces to get into corners and other hard to reach areas.

Buy a bag containing several sea sponges and experiment to see which one you like the best, or use two or three different sponges instead.

Mix in a glaze extender if you need more workable time with the glaze. Use this when trying the sponge-off technique.

Use a clean, damp sponge to pull off some of the glaze for a different effect.

Always practice decorative painting techniques on a practice board before attempting the technique on your wall.
References
Photo Credits
Comstock/Stockbyte/Getty Images