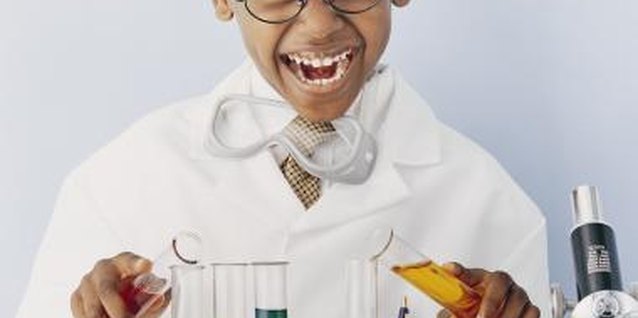 Surprise your preschooler and his party guests with a magical treat at his next Halloween party, or use a magic potion to entertain him on a rainy afternoon. Magic potions are not just an entertaining activity, though -- you can use them to teach your kiddo a little bit about color mixing and the science behind acid-base interactions.
1. Edible Magic Potion
1 Put on your rubber gloves and drop a block of dry ice into the punch bowl. You can use a set of tongs to pick up the dry ice instead. This task is not a good one for kids -- have your kiddo help out with the rest of the potion to keep him safe.
2. Edible Magic Potion
2 Fill a measuring cup with about 1/4 cup of water and pour it over the dry ice to get it steaming. You can use a little extra water, if necessary.
3. Edible Magic Potion
3 Pour the ginger ale, cider and juice in the punch bowl. Mix in the 4 ounces of orange juice concentrate. That's it -- a steaming magic potion for your little witch or wizard colored by the drinks themselves.
4. Non-edible Magic Potion
1 Get your child to pour about 1 tablespoon of red cabbage juice into a medium-size glass. (You can use plastic instead, but make sure she can still see through the cup.)
5. Non-edible Magic Potion
2 Have her sprinkle in about 1/2 tablespoon of baking soda and then stir the mixture to dissolve the baking soda. Place the cup on a towel-covered surface because the next step is going to get messy!
6. Non-edible Magic Potion
3 Let your munchkin pour 1 tablespoon of vinegar into the cup and then watch the magic potion come to life. It will begin to fizzle right away because the acid and base combine to form carbon dioxide. That's not all the magic to the magic potion -- it will change color as the anthocyanin in the cabbage reacts to the acid-base solution. When baking soda is added to red cabbage juice, the potion turns green. When you add vinegar to red cabbage juice, the potion will turn red.
Items you will need
Rubber gloves (or tongs)

1/3 block of dry ice

Measuring cup

1 liter ginger ale

1 liter sparkling apple cider

1 liter cranberry juice

4-oz orange juice concentrate

Food coloring

1 tbsp. red cabbage juice

1/2 tbsp. baking soda

Old towel

1 tbsp. vinegar
Tip
Let your kiddo experiment with color mixing by adding his choice of food coloring to the edible potion. Turn it into a learning activity by discussing the color changes in the potion after he adds different colors.
References
Ghoulish Goodies: Creature Feature Cupcakes, Monster Eyeballs, Bat Wings, Funny Bones, Witches' Knuckles, and Much More!; Sharon Bowers
Bill Nye the Science Guy's Big Blast of Science; Bill Nye
Photo Credits
Digital Vision./Digital Vision/Getty Images