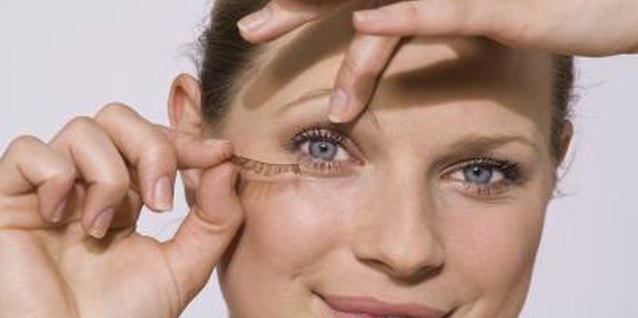 Dark, full lashes make the eyes stand out beautifully, but when you don't have a flirty fringe, getting a big impact can be tricky. Don't spend your time coveting youthful-looking lashes -- take a three-prong approach to getting lusher eyelashes. Combine professional makeup tips with topical lash solutions and take steps to stop lash loss to achieve maximum eyelash growth. You can get quick results with cosmetics, but growing out eyelashes may take several weeks, even months.
1. Fuller Lashes With Makeup
1 Prevent mascara and eye makeup smudging by allowing your skin to fully absorb facial lotion before applying any cosmetics.
2. Fuller Lashes With Makeup
2 Curl the eyelashes with an eyelash curler. This handy tool will give the lashes an upturned, denser lash look.
3. Fuller Lashes With Makeup
3 Tap concealer under your eyes. By highlighting this area of the skin, you will draw attention to your eyes and hide any skin discoloration.
4. Fuller Lashes With Makeup
4 Apply black eyeliner along the top and lower lashes. Your eyeliner should have a sharp tip for a more precise line. By lining the lashes, you will create the illusion of fuller eyelashes.
5. Fuller Lashes With Makeup
5 Brush the tips of the lashes with black mascara. This will darken and extend the lashes. Put the mascara wand back in the tube and twist to pick up more paint. Turn the mascara wand sideways, horizontal to your lashes and brush on the paint. Work the wand from the roots to the tip. Allow the first coat of mascara to dry, then brush out the lashes with an eyebrow brush. Apply a second coat.
6. Applying Lash Serum
1 Visit your dermatologist for a lash-growth prescription. If you prefer, you can find less intense serums at a pharmacy or department store.
7. Applying Lash Serum
2 Apply two or three drops of lash serum to the lash line. In most cases, this product should be applied before bedtime after you clean your face and remove makeup.
8. Applying Lash Serum
3 Rub the product into the lashes using the disposable applicator included with the product. Repeat this procedure until your lashes begin to grow thicker.
Items you will need
Facial lotion

Eyelash curler

Concealer

Eyeliner

Mascara

Eyebrow mascara

Eyelash serum
Warning
Sometimes eyelash loss occurs due to a vitamin deficiency or an underlying health issue.
Photo Credits
Jupiterimages/Pixland/Getty Images