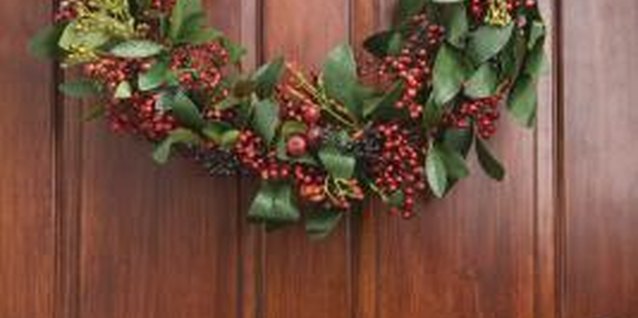 The entryway is the first introduction to the interior of your home. During the winter, when the temperatures are cold and the landscape barren, you want to welcome friends and family with warmth and hospitality. Even in the busy season -- with school productions, visiting relatives and searching for the year's "must have" gift -- you can easily and quickly turn your entryway into a welcoming haven that greets all who enter your home.
1. Embrace the Colors of the Season
Wintertime is a beautiful season: Sparkling snow, dappled aspen trees, green firs and pine cones give the world a soft palette of white, gray, green and brown. Mixing in festive red ribbon, gold garland and keepsake tabletop accessories creates a cozy, traditional feel. If modern is more to your liking, pair branches, pine cones and white poinsettias with chrome candlesticks, glass vases and metallic figurines of woodland animals. While poinsettias are not poisonous, they can cause allergic reactions if the sap comes in contact with the skin and stomach upset if ingested, so take this into consideration if you have small children.
2. Bring the Outdoors In
Take advantage of the season's uniqueness. Try hanging pine garland around all of the doorways or strategically hang evergreen wreaths up the staircase in your foyer. Pile pine cones into a festive oversize bowl on an entry hall table. Modern winter decorations take a mixed media approach to design. White feather Christmas trees or menorahs made to look as if they are made from branches are just a couple of trends. If your home is near the ocean, bowls of creamy seashells and ornaments made from white starfish hung from the ceiling give your entryway a beachy winter feel.
3. Think Outside the Ornament Box
Ornaments are not just for the Christmas tree. Fill tall vases with reflective ball ornaments; use similar colors for a sleek look or varied shades for significant color sizzle. Instead of a guest book, have visitors sign ornaments and hang them on garland in the entryway when they come over for a holiday party or make a family project out of it by having your kids decorate the ornaments. Display them year after year as a reminder of the fun of the holiday season. Hang ornaments from your entry chandelier. Tie clear fishing line around the ornament topper and then tie the other end to one of the arms of the fixture. Vary the heights of the ornaments for a dynamic effect.
4. Keep the Space Warm With Lighting
Proper lighting enhances a space, bringing it a sense of warmth and comfort. String Christmas lights near the ceiling along the perimeter of the room for festive, indirect lighting. Place mirrored panels face up on your entry table. Load the table with candles of varying heights. For a safer alternative around small children, use battery-operated tea lights that mimic candlelight. When lit, they create a warm glow that is reflected in the mirrors. Even in the form of candlelight, fire creates a welcoming atmosphere that delights guests.
Photo Credits
Thinkstock Images/Comstock/Getty Images