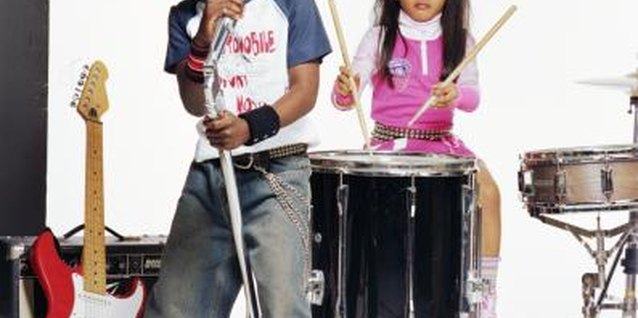 You may get weird looks when you tell people you chose a rock 'n' roll nursery decor scheme. However, when you stop and think about it, a baby and a rock 'n' roll musician have a lot in common. Both trash rooms, are liable to spit up something putrid at any given time, and both like the ladies. Granted, babies love their moms, while musicians aren't always known as being too picky. This decorating scheme allows you and baby to rock, roll, coo and cuddle any hour of the day.
1. Rock 'n' Roll All Night
1 Prime the walls with a gray-tinted primer, the correct color for bright or rich paint colors.
2. Rock 'n' Roll All Night
2 Paint the walls a color that screams rock 'n' roll, such as dark gray, lipstick red or ink black. Paint three of the walls either dark gray or lipstick red, and use ink black as the accent wall color. Choose a paint with an eggshell or satin finish; you can wash both finishes.
3. Rock 'n' Roll All Night
3 Install both a light-blocking window shade and a thick curtain, in a black-and-white zebra stripe or black-and-white chevron, that can mute loud noises from outside. The baby, like a musician, keeps odd hours and sleeps a lot during the day. Window treatments that keep out excess light and noise will help baby sleep soundly.
4. Rock 'n' Roll All Night
4 Bring in color and cushion with a rug. Choose a machine-washable rug with large, music-related graphics such as headphones, guitars or drums.
5. Rock 'n' Roll All Night
5 Furnish the room. Outfit the room with a white crib, matching bureau and changing table. Position the white crib against the black accent wall so that the crib makes a strong visual statement. A black armoire positioned near another wall adds storage and additional rock 'n' roll cool.
6. Rock 'n' Roll All Night
6 Add a rocking chair or easy chair for you to sit in while tending to baby late at night.
7. Party Every Day
1 Use baby's toys to echo the room's theme. Toy instruments as well as stuffed character toys that play instruments encourage baby's creativity and reflect the rock 'n' roll theme.
8. Party Every Day
2 Adorn the walls with your favorite, toddler-appropriate music posters and album cover art. Frame them in lightweight, plastic frames.
9. Party Every Day
3 Draw attention to the black accent wall with painted effects or wall decals. Artwork in the shape of white guitars, white music notes or other instruments pop against the black background.