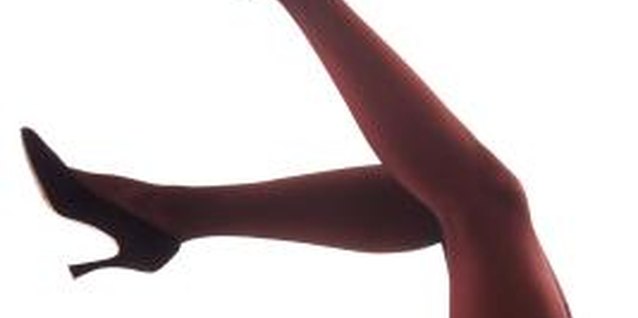 Tights many not necessarily seem cutting edge or glamourous. But as any woman with keen fashion sense knows, there is always a way to reinvent seemingly staid clothing. Rather than splurging on a designer pair of embellished hosiery, you only need to splash out a few dollars for ordinary tights and a few basic craft supplies. After a little thoughtful planning, you can fashion glamorous leg-wear that speaks volumes about your style, without leaving your wallet empty.
1 Lay the tights front side up on your work surface.
2 Slide postcards into the tights wherever you plan on affixing embellishments. The postcards will keep the adhesive from seeping through one layer of fabric to the other, which would glue the tights together. Be careful not to allow the corners of the postcards to snag the tights.
3 Lay flat-back rhinestones or sequins on the tights to test various arrangements until you create the design you want to use.
4 Leave the desired arrangement in place and set the excess rhinestones or sequins to the side.
5 Squeeze a small dollop of fabric glue onto a paper plate.
6 Lift a rhinestone or sequin off the tights. Dip a narrow paintbrush in the glue and generously paint the back of the embellishment. Press the embellishment in place on the tights.
7 Continue painting the backs of the embellishments and affixing them to the front side of the tights until you have completed the design.
8 Allow the glue to dry according to the glue manufacturer's instructions.
9 Turn the tights over once the glue is dry. Repeat the process to decorate the backside of the tights, if desired.
Items you will need
Tights

Postcards

Flat-back rhinestones

Sequins

Fabric glue

Paper plate

Small paintbrush
Tips
You can use postcard-sized pieces of cardboard or poster board, if you prefer. It is better not to use regular paper, such as typing paper or notebook paper, because it is more likely to get stuck in the glue.

The slim plastic paintbrushes that accompany children's pans of watercolor paints are the ideal size for painting the backside of rhinestones and sequins with fabric glue. Applying tiny droplets of glue directly to the back of the embellishments would result in excess glue squishing out around the decoration when you pressed on the fabric.
Photo Credits
John Foxx/Stockbyte/Getty Images