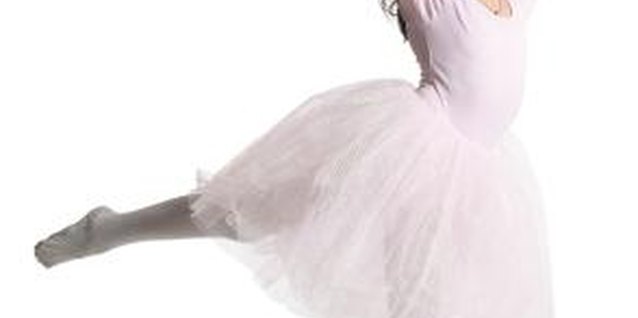 Tulle and gossamer lead you on a shortcut to romantic decor that spins a fantasy world in your home -- for a holiday, a season or a childhood. Borrow an image from classical ballet to light up an ordinary room. Swirl ghostly yardage into a haunting fall tableau. Use bits and bolts of the filmy fabric for a Festival of Lights in winter and an island bedroom in your vacation cottage. Just cut and drape, transform your surroundings, and get on with your busy life.
1. Magical Fairy Stairs
Waking up to an already-decorated house would make the holidays truly magical. The next best thing is 15-minute decor that looks as if you slaved over it. Grab a roll of white tulle, another of wired silver gossamer ribbon and a long string -- or connected strings -- of white or clear fairy lights and tackle the stair rail. Begin at the top, bunching the tulle into folds to draw it through the rails just under the banister, weaving it in and out. Weave the gossamer ribbon opposite, so the tulle and ribbon cross between every rail. At the post at the bottom, tie both into a big decorative bow -- the wire in the French ribbon will help hold its shape. Then snake the fairy lights through the shimmering fabric, looping them over the banister every few steps, for a heavenly holiday staircase.
2. A Degas for Your Daughter
Little girls love ballet costumes and their moms love Degas' famous "Little Dancer" sculpture and his series of paintings of the Paris Opera Ballet. Re-create that dreamy tulle mood with a floaty skirt on the pendant lamp in the bedroom. Begin with a plain white pendant lamp or just the bare metal frame of a lampshade over a hanging socket and bulb. Choose a "cold" light bulb for safety -- LED lamps and some compact fluorescents stay cool. Tightly gather about 10 yards of tulle at the top -- make it full and fancy with multiple layers in different colors. Lay pink tulle on a flat surface, top it with lavender, fold the layers in half and gather it about 2 inches down from the fold. Fit the gathered end around the neck of the lamp or shade; tie it off securely so the folds hang down like a ballerina's skirt.
3. Add Some Tropical Heat
Equatorial mosquito netting transforms an ordinary bedroom into an exotic retreat. Drape yards of gauzy gossamer fabric over a wood embroidery hoop hung horizontally over the head of the bed. Ease the folds of filmy cloth around the headboard and over the sides of the mattress. Hang more featherweight gossamer from curtain rods in front of blackout shades to pool on the floor. When the shades are up and the windows open, the romantic swaths of curtain fill and lift gently in the breeze.
4. Holiday Helpers
Tulle and gossamer make every occasion festive, but a few tricks for holidays let you maximize their "instant decor" qualities. Create a spooky fireplace by drifting transparent white gossamer over the mantel like cobwebs. Cover whatever is on there and add a couple of fake spiders to the "web," a faux crow or two to sit on top of candlesticks or a vase, and a pumpkin, with or without a gaping grin. Bewitch your door with a wreath to greet trick-or-treaters, making it from twisted grapevine knotted all around with short lengths of black and orange tulle. Hang a sparkly white gossamer ghost in the center of the wreath. Dress up the Hanukkah table with a string of fairy lights down the center of the feast. Decorate the lights simply with bows made from strips of blue and white tulle tied at every tiny light.