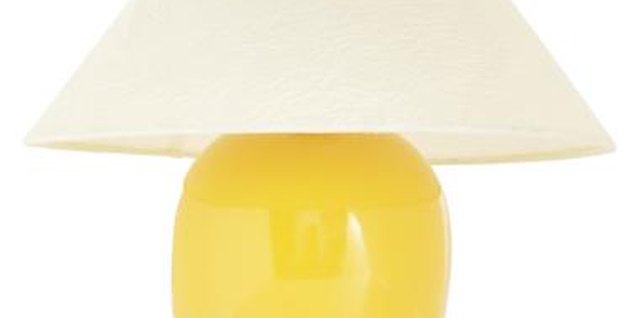 For a truly unusual photography display, decoupage a plain white lampshade with your favorite pictures. Highlight just one treasured photo, or cover the entire lampshade with a carefully assembled collage. Cover the outside of the lampshade for a continuous display, or glue your pictures inside the lampshade for a surprise revealed only when the lamp is on.
1 Choose photos in your computer's photo library for your lamp. Keep to a specific theme for the best results. Parties, vacations, family, pets and landscapes are possible options.
2 Size your pictures to fit your lampshade, then print on vellum paper.
3 Trim the photos if necessary, and lay them out on the table to determine the best layout.
4 Brush a thin layer of decoupage medium onto the lampshade where the photos will go.
5 Brush decoupage medium onto your photographs. If you are decoupaging the outside of the lampshade, the adhesive will go on the back of your photos. If you are decoupaging the inside of the lampshade, apply adhesive to the front of your pictures.
6 Lay your photos onto the prepared section of lampshade. Use the craft stick to smooth away any bubbles or creases.
7 Continue to glue and arrange photos until your collage is complete.
8 Cover the lampshade with three or four coats of decoupage medium, letting the medium dry between each coat. Let the lampshade dry completely.
9 Spray clear acrylic sealant over the entire lampshade surface to protect your project. Let the lampshade dry overnight before placing it on your lamp.
Items you will need
Photo library

Vellum paper

Scissors

Decoupage medium

Craft paintbrushes

Craft stick

Spray acrylic sealant
Tips
If you don't have decoupage medium, make your own by mixing 3 parts white glue to 1 part water.

Print your photos in sepia tones or black and white for an old-fashioned, artistic appeal.

If your favorite photos are in your phone or tablet, email them to your computer for size adjustment and printing.
Warning
Use your decoupaged lampshade over LED or compact fluorescent light bulbs. Traditional incandescent bulbs burn hot and might scorch your photos.
Resources
Photo Credits
Hemera Technologies/PhotoObjects.net/Getty Images